How to Create the Ultimate Home Spa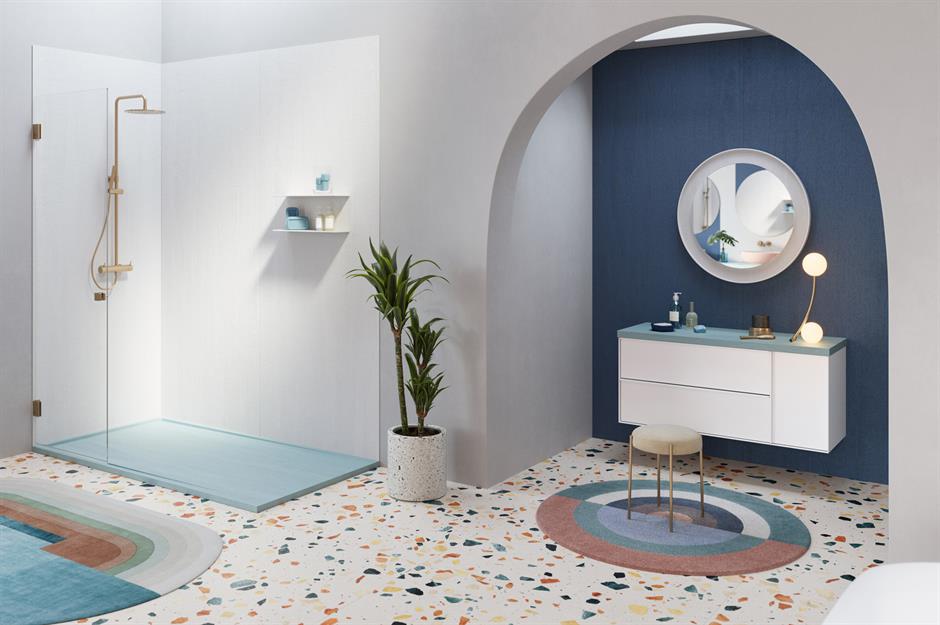 Aquabella
Looking to make your bathroom a luxurious sanctuary? You don't always need to spend a fortune to achieve that at-home spa experience. From changing up the paint colour to on-trend tile tricks, take a look at these luxurious bathroom ideas. And, if your budget is a little more flexible, then check out the latest tech and you'll soon feel like you're at a relaxing retreat without stepping a foot out the door!
Be at One With Nature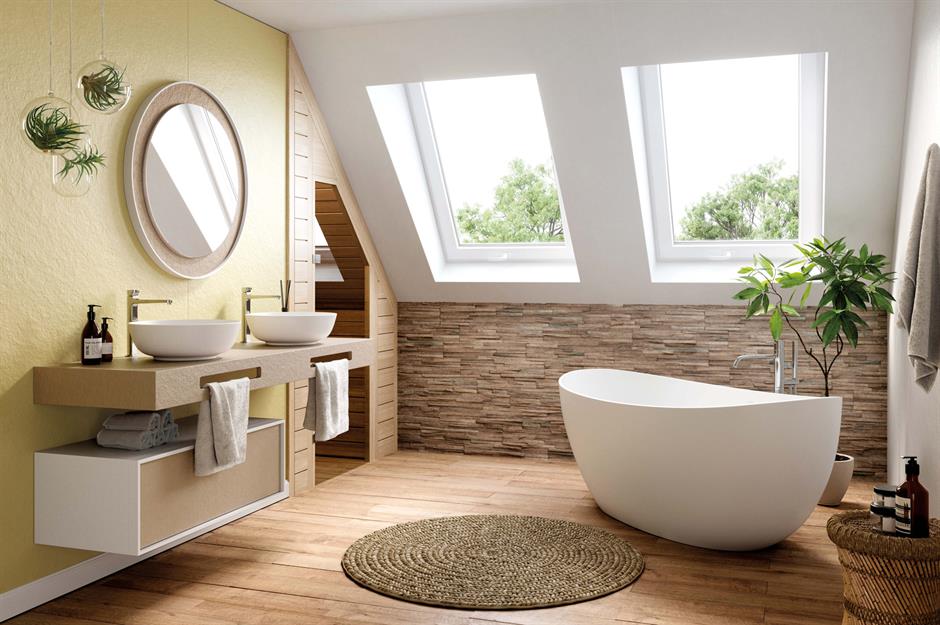 Aquabella
Choose calming tones inspired by Mother Nature. Blow the budget on a curvaceous moon-shaped bath and then decorate with shades like pale stone, soft green and meadow yellow to create a soothing backdrop to relax. Textured materials such as jagged stone effect tiles, wooden flooring and bamboo accessories will complete the organic yet spa look.
Layer Your Lighting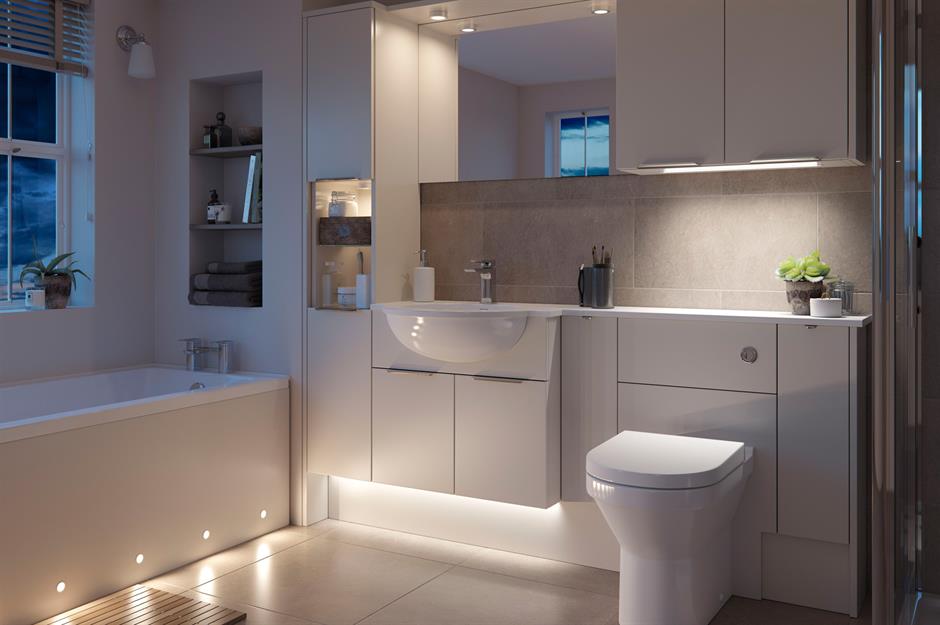 Mereway
Put an end to your lacklustre bathroom with the right
lighting solutions
. Call in an electrician, and go for a layered approach: spotlights create a brightness for the whole room and can be controlled with dimmer switches for mood. Bathroom-safe sconces can highlight certain areas, such as the bath, and under-cabinet downlights create a relaxed mood when used alone.
Shine With a Copper Bath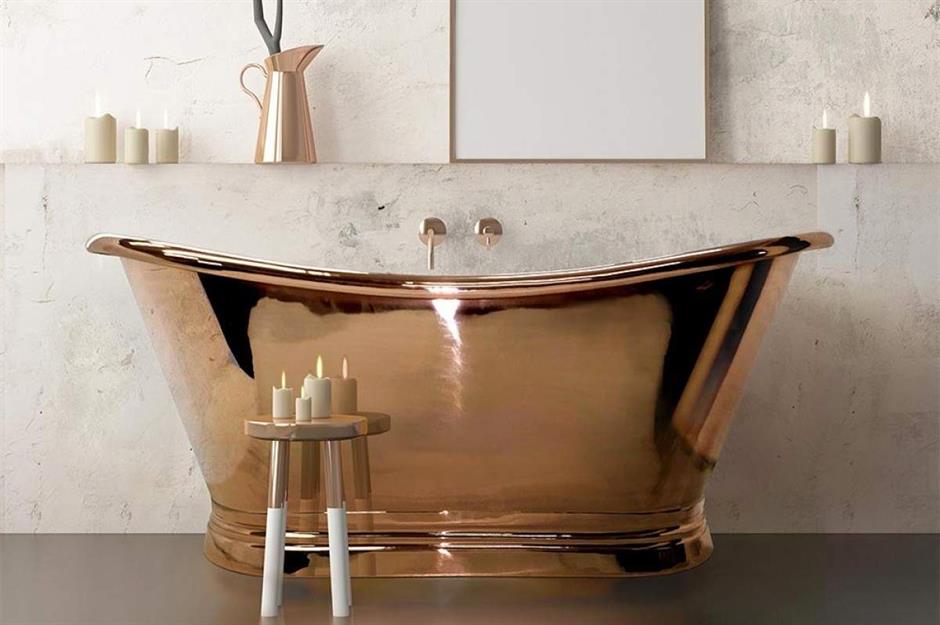 BC Designs
A metal bath in an opulent copper or gold finish is an absolute showstopper and instant shortcut to luxury décor. Pare back on the accessories with something this lavish though, to avoid accidentally making it look cheap or tacky. Neutral and matt finishes make the copper tones of this vintage-style tub the star.
Angle the Bath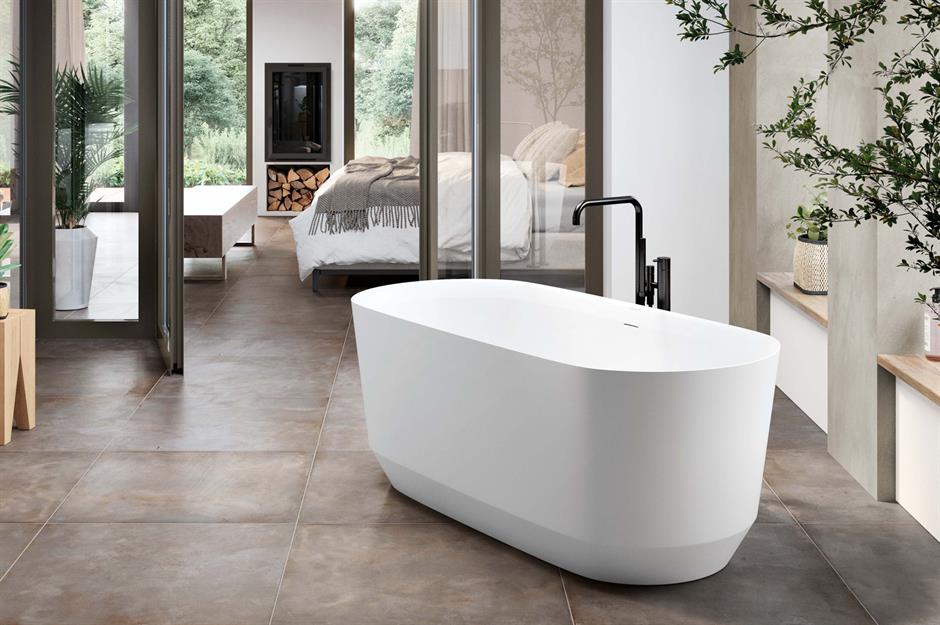 Aquabella
Many upmarket hotels steer clear of conventional bath positions, opting to install them at an angle instead. It looks expensive because it takes up valuable space and doesn't feel like all the furniture in the room has been pushed to the edge.
Create Seamless Style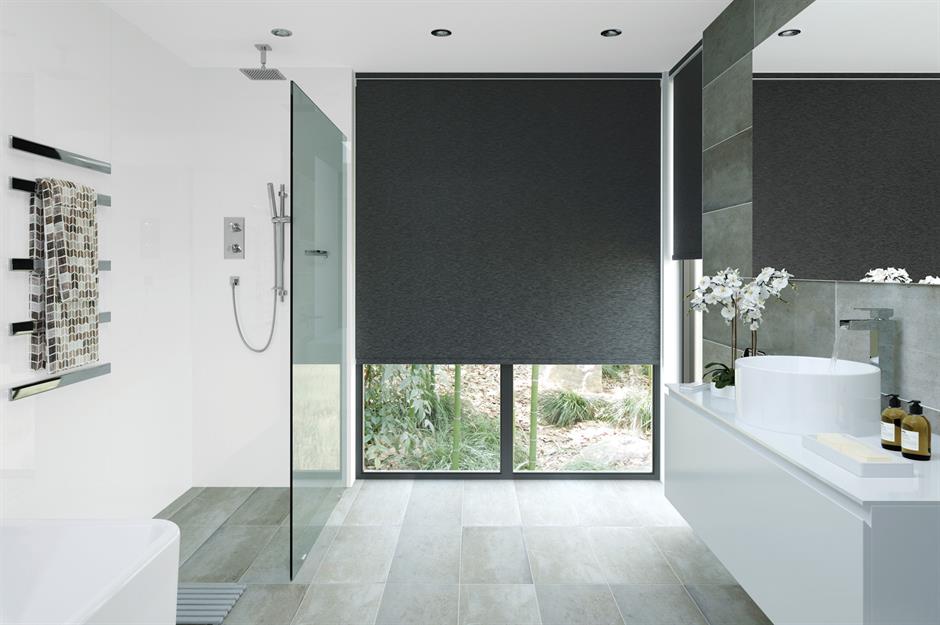 English Blinds
Concealed plumbing and a trayless shower with frameless shower screen keeps things minimal, creating a bathroom retreat for pure relaxation. A wall-hung sink lifts the appearance and also makes after-shower cleaning a breeze. A large flat mirror increases the sense of space and keeps the look totally streamlined and luxurious.
Create a Feature Wall With Tiles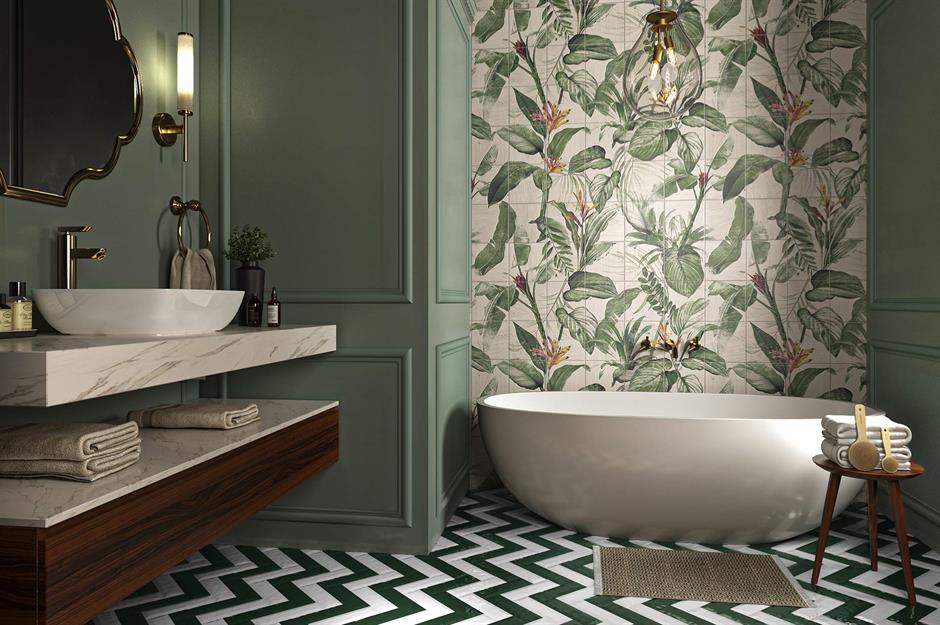 The Baked Tile Co.
A feature wall in any room makes a serious style statement but a tiled version in a bathroom will certainly turn heads. This beautiful fresh floral tiled mural in soft greens and peach creates a tropical oasis in this bathroom niche.
Marvel With Marble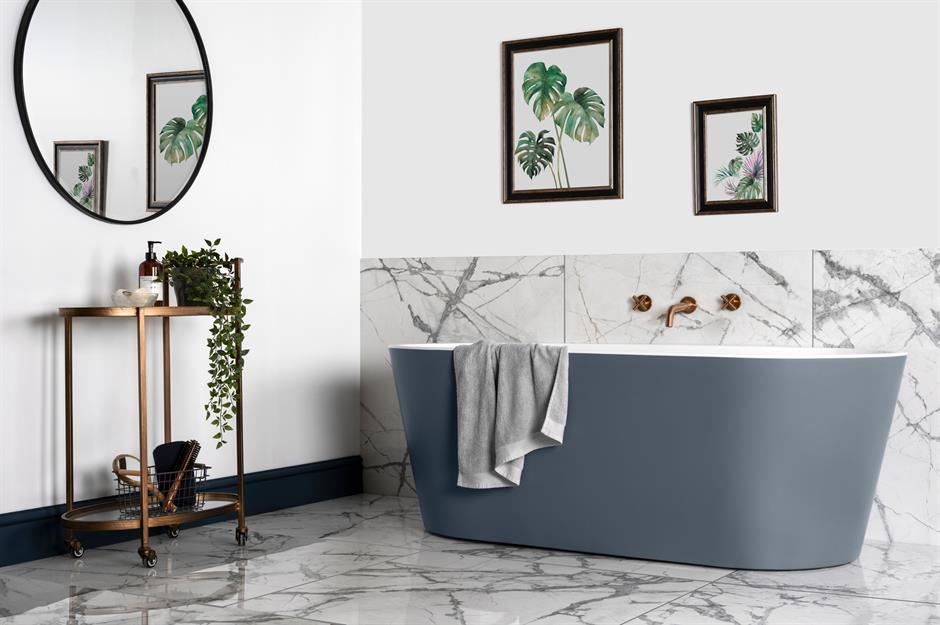 Walls and Floors
Marble creates a striking aesthetic. Some trends come and go, but marble looks like it's here to stay, which is just as well as there is a reason the Romans loved it in their spas. As a natural material, each piece of stone has unique veining so you'll never get the same look twice. Single pieces of marble are prohibitively expensive, but you can cheat the look with marble-effect ceramic tiles, with surprisingly effective results.
Grow a Forest in Your Bathroom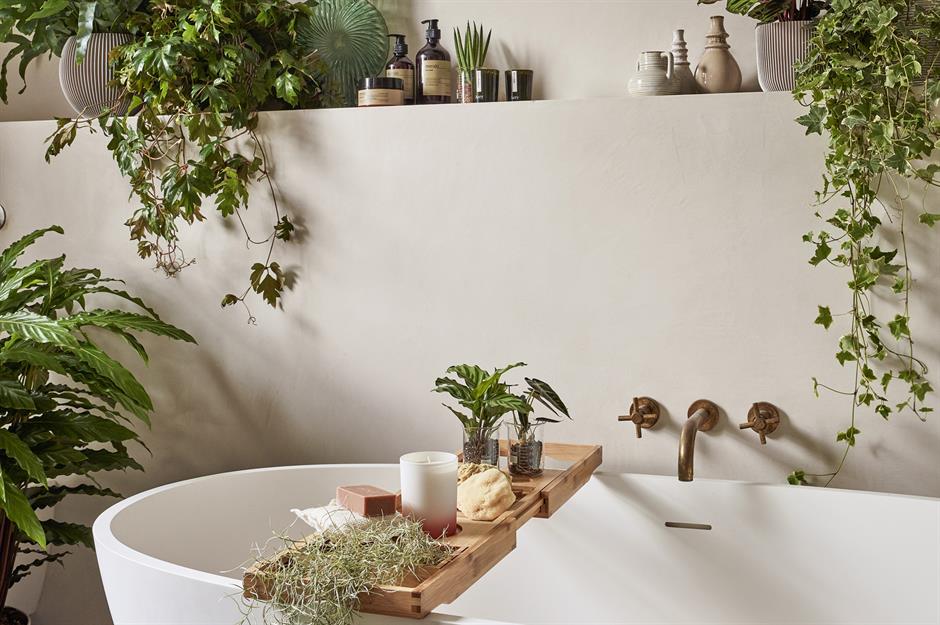 Dobbies
Biophilic design is big news again this year, so why not turn your bathroom into a rainforest full of life with plenty of
potted plants
? A row of trailing and moisture-loving greenery will purify your room with oxygen and create an incredible visual impact.
Double Up on Showers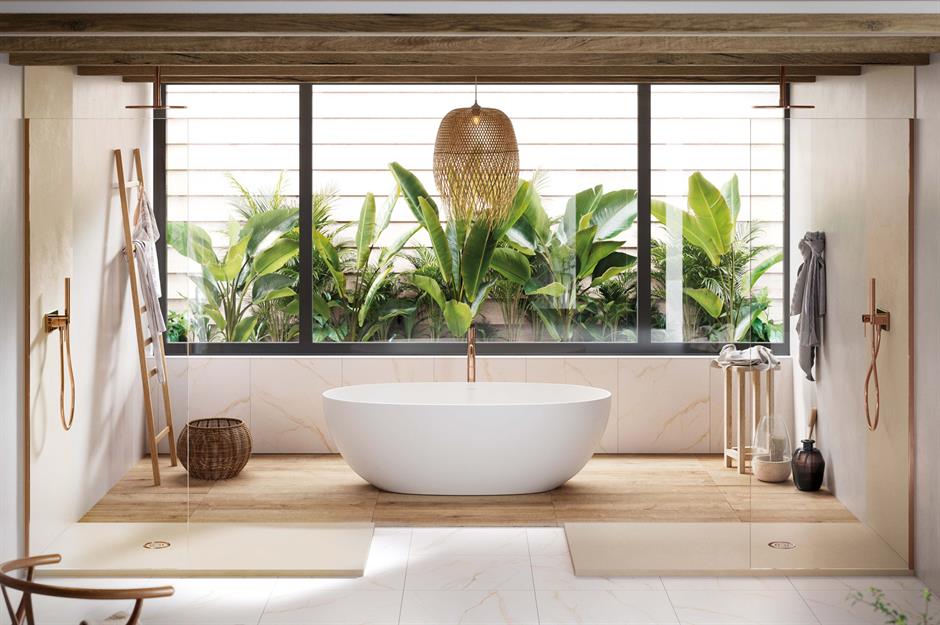 Aquabella
Designing from scratch
? Walk-in showers with room for two are simply bliss. Or, if you have space in a wet room why not splurge out on a matching pair? Minimal fittings will enhance the sense of space and look ultra indulgent, especially if there is a statement bath on show too.
Choose Coloured Sinks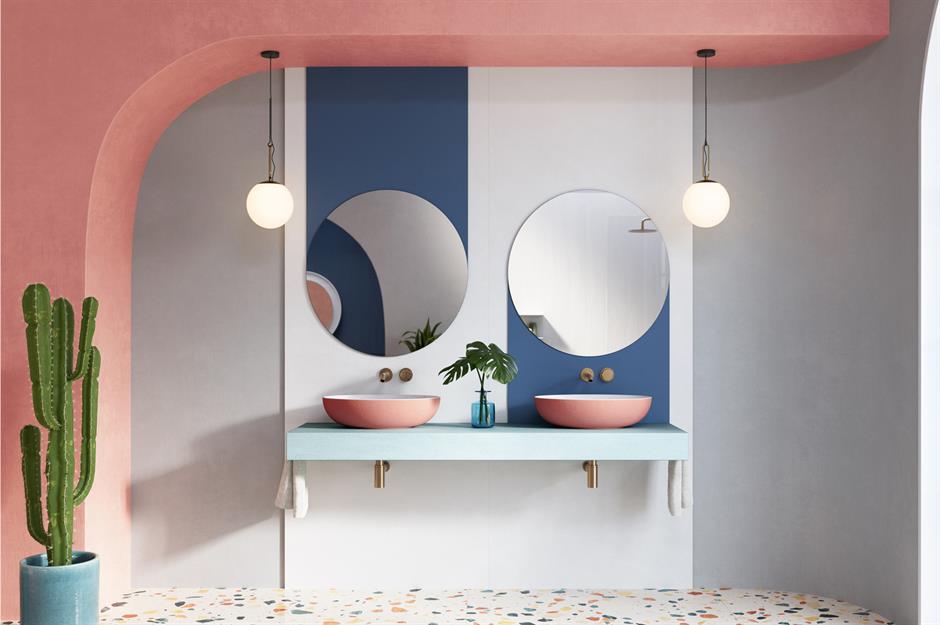 Aqualbella
Throw the bathroom rule book out the window and install mood-boosting coloured sinks. Manufacturers are catching on to this jazzy idea and it is becoming much easier to find pink, grey, blue or even black sinks in amongst the usual sea of white. This modern bathroom looks ultra-fresh and inspiring with a pair of coral pink, circular sinks surrounded by curved features and jazzy pattern.
Go Luxe With Accessories
Ella James
Little extras make a big difference. Expensive looking toiletry storage adds a glamorous touch and looks much nicer than mismatched bottles and tubs. These smart navy accessories have perfect powder room appeal and will look stunning in grey or
white schemes
.
Choose Metallic Fittings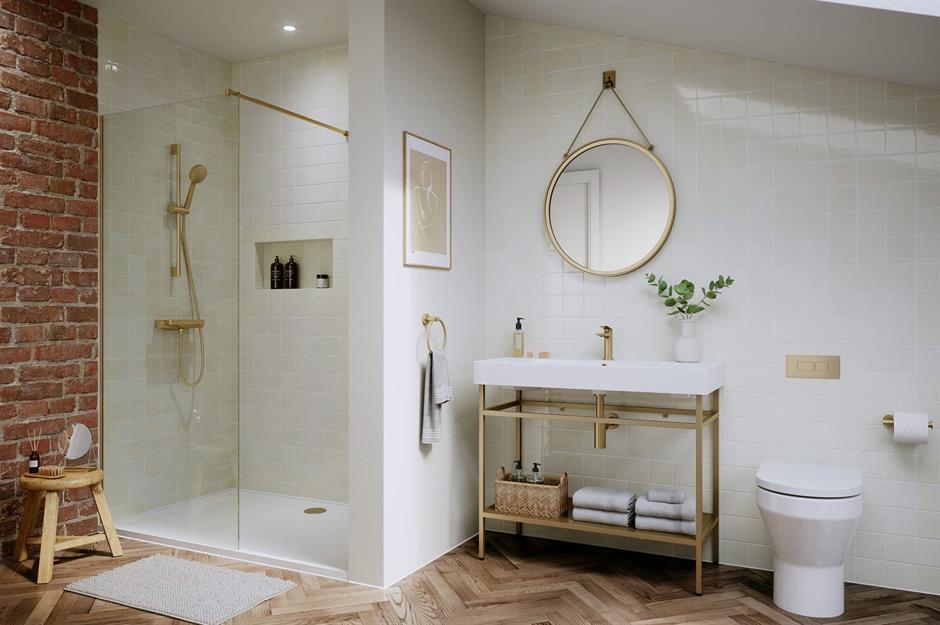 Britton
Hardware, fixtures and furniture in opulent metallics such as brushed brass or rose gold instantly add an element of luxury. Brushed finishes conjures up a vintage twist or if it's glamour your are after the shinier the better.
Double Up on Sinks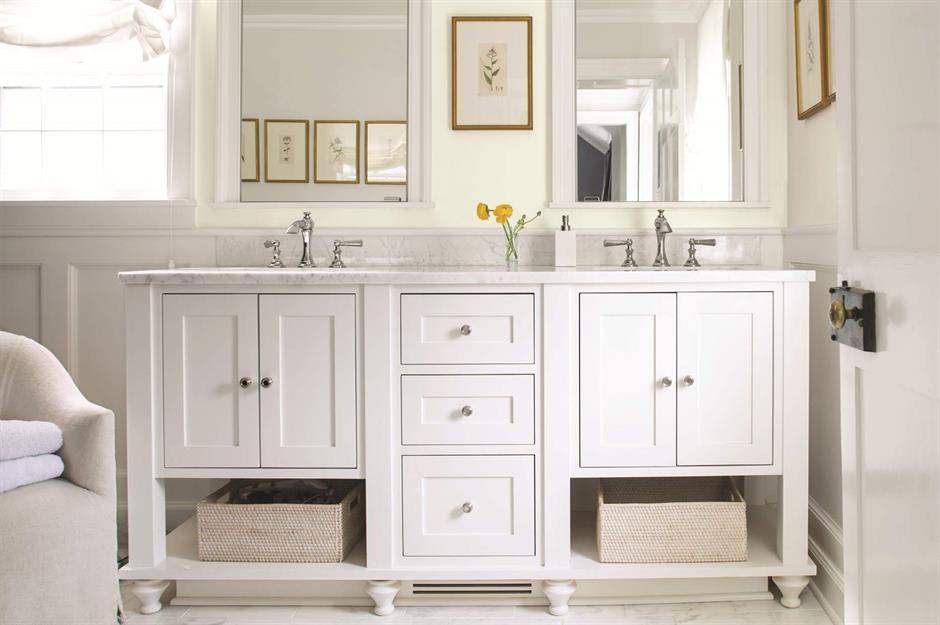 Benjamin Moore UK
This bright and fresh bathroom will head off any morning arguments with dual sinks. Make practicalities a priority by choosing a twin sink vanity with plenty of allocated storage and install matching hooks above to hang plenty of towels for everyone.
Add a Small Sauna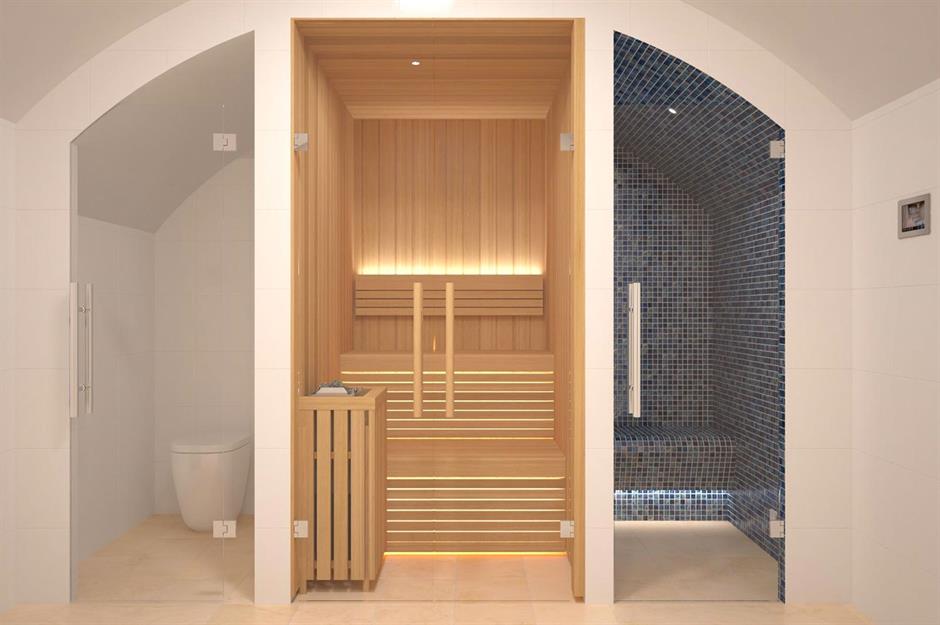 Nordic
Live like the Swedes and install your very own home sauna. It's more feasible than you might think. Small one- or two-person saunas can be added to an area the size of the average shower and, if you've got room and budget, why not install a steam room too! It not only looks Scandi cool, but the health benefits are fantastic.
Or Try an Infrared Sauna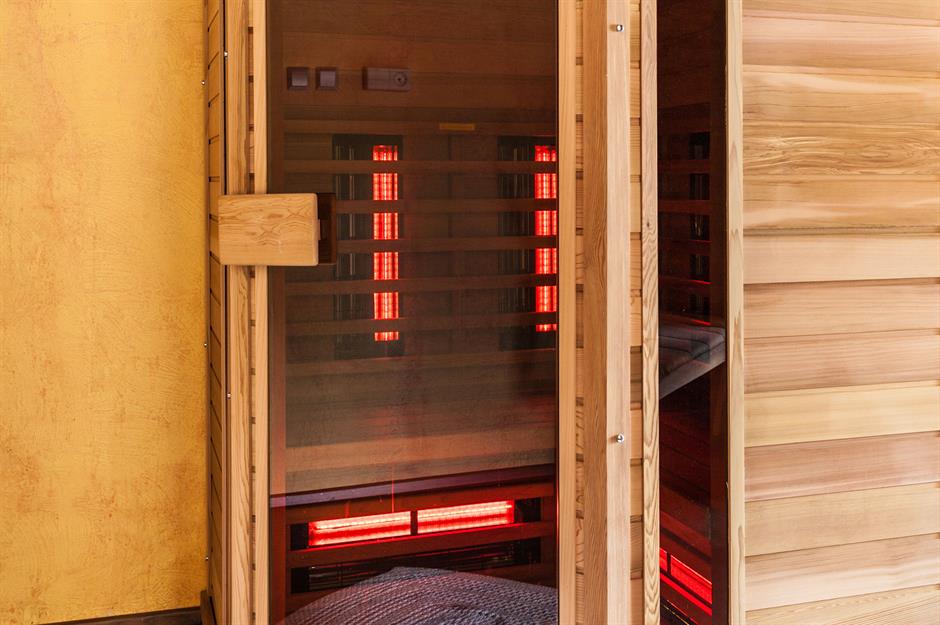 Dario Lo Presti / Shutterstock
A buzz feature to hit bathrooms is the infrared sauna. What's the difference? These use infrared heaters instead of conventional hot stones. The red bars gently heat up, are not hot to touch, and a session inside is less sweaty. They are super effective at excreting toxins, boosting your immune system, aiding in weight control, as well as giving you the same benefits of beautiful sunshine all year round without the harmful UV rays. We're sold!
Sink Your Tub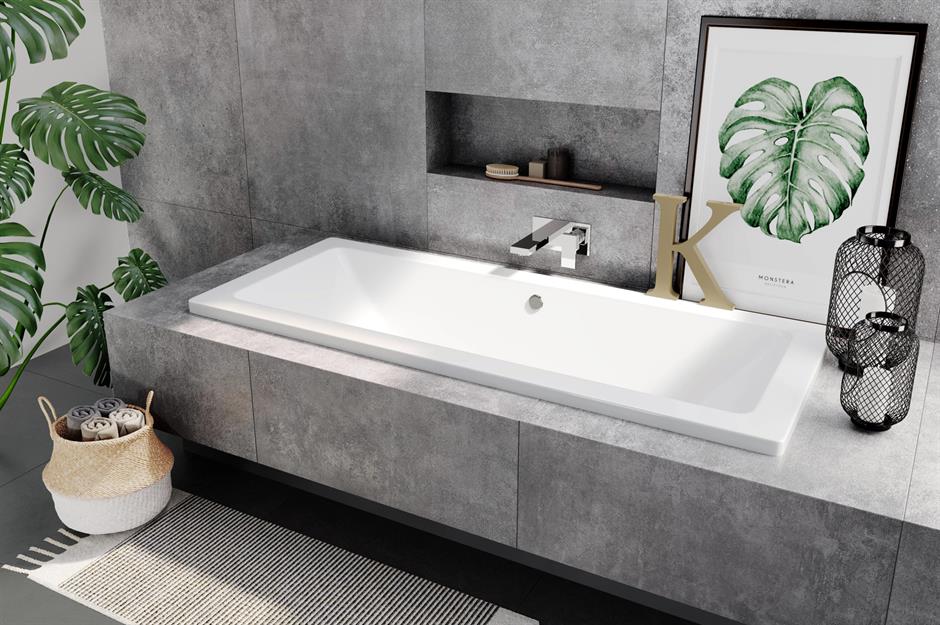 Bathroom Mountain
Create the feeling of stepping into a hot spring with the aid of a luxurious sunken bathtub. Here, that vibe has been achieved with a tiled frame that cocoons the tub. Minimalist furniture and accessories give the look a cool Japanese influence.
Go for a Crittall Screen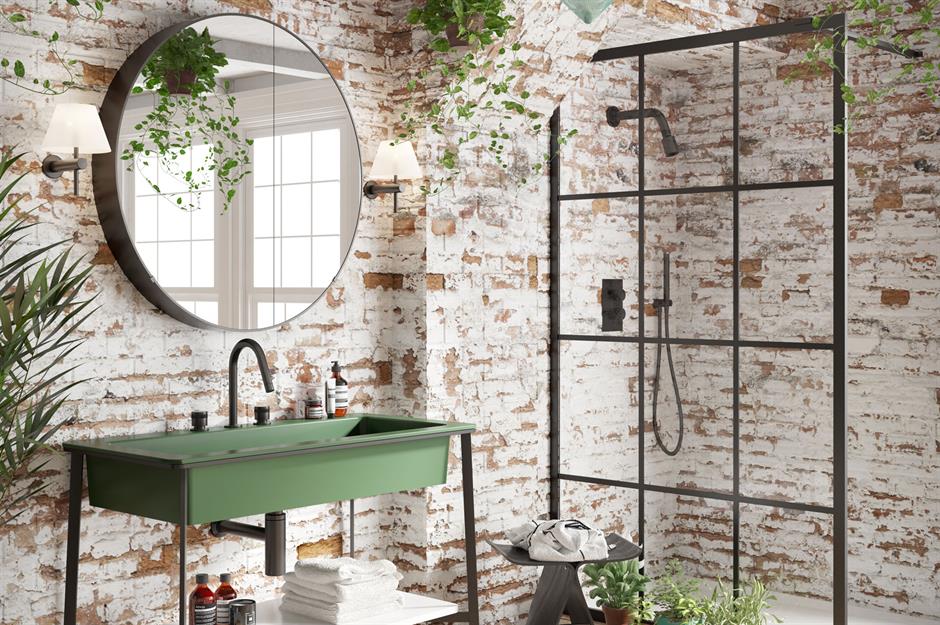 C.P. Hart
Shower enclosures are making a splash in bathrooms right now and this Crittall-style version has to be a favourite. The industrial-meets-Art Deco style sits beautifully against exposed brickwork and a very unusual green trough sink. A circular mirror balances the gridded lines and a few different varieties of houseplants soften the whole look.
Pack a Punch With Wallpaper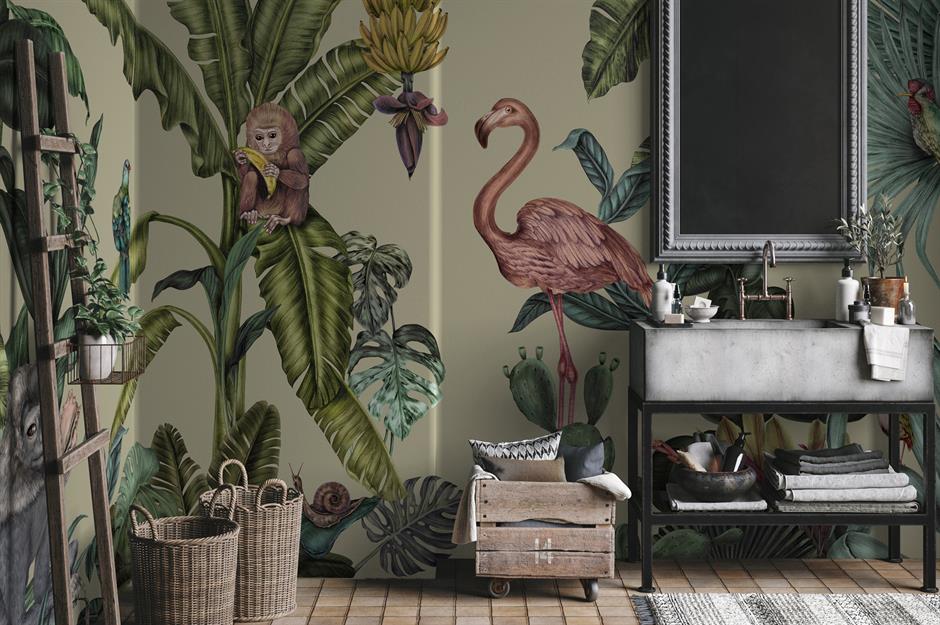 Feathr
Who says you can't have fun in the bathroom?
Wallpaper
is less expensive and less permanent than bathroom walls tiles so it pays to be brave with a daring look. These big bold jungle prints dominate the space and look incredible teamed with rustic island-style bathroom furniture.
Create a Hammam-style Sanctuary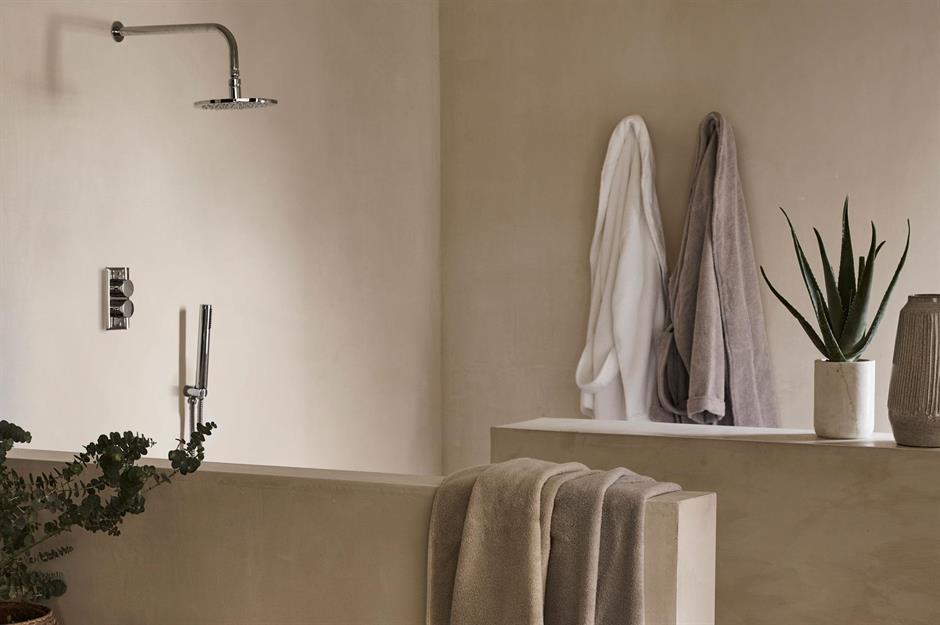 You don't necessarily need tiles in the bathroom to create a luxurious look. Smooth walls painted a warm plaster-pink hue can create an inviting spa-like atmosphere similar to steamy Moroccan spas. Finish with hammam towels, fluffy dressing gowns and leafy exotic plants.
Make a Statement With Flooring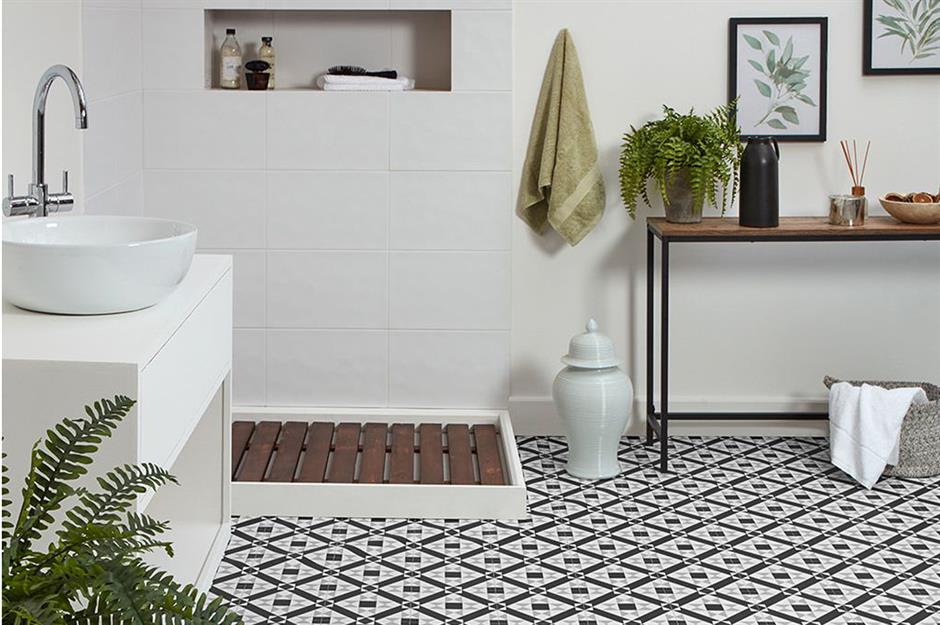 Flooring Superstore
A beautifully tiled floor can make a budget bathroom look stunning. Keeping the bathroom suite and wall tiles white and simple will keep the room balanced and will then let your chosen flooring sing out with pattern and colour. Your materials don't have to cost a fortune to look luxury – these bold weave pattern tiles are actually vinyl!
Splash Out on Towels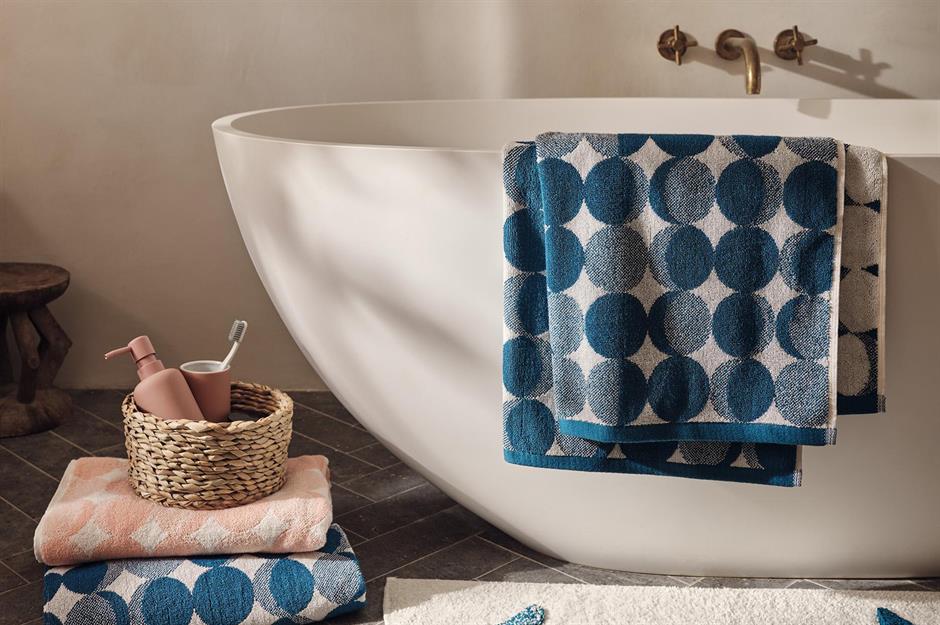 George Home
Top-quality 100% cotton towels will feel great on your skin, plus they'll last for much longer. What's more, they can shape the look of your scheme by adding colour and pattern that can then be easily changed with the seasons. These moon crescent print bath towels add contemporary interest to neutral schemes.
Stick With Traditional Furniture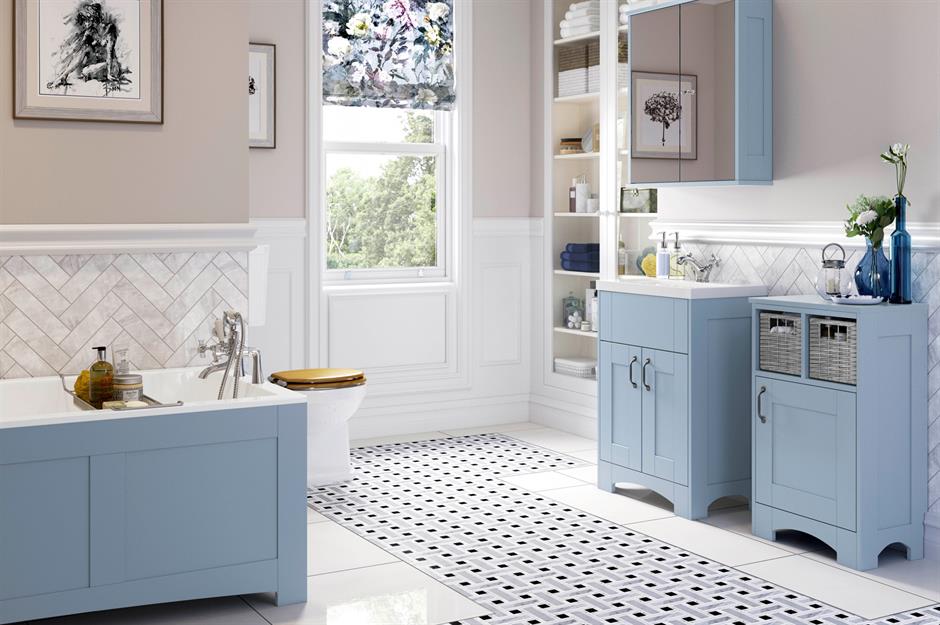 Mereway
A timeless bathroom suite won't date in a hurry so it's wise to invest in good quality furniture. Pretty pale blue tones are on-trend but can always be updated with a new coat of paint later when tastes change. Neutral but patterned tiles on walls will complement the elegant scheme and suit any update that comes along.
Paint the Ceiling a Colour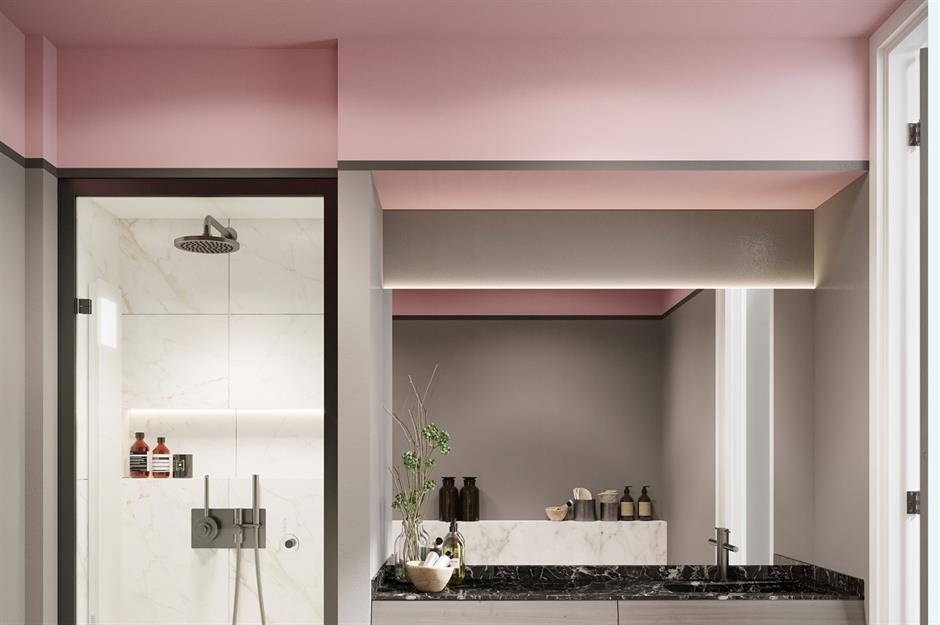 C.P. Hart
Keeping up with the latest trends will make your bathroom feel cutting edge. Look up and paint your ceiling any colour but white! Using that fifth wall will give the room a touch of wow and originality that can be done in just a weekend. This pretty pink ceiling looks stunning set against black fixtures and fittings.
Enjoy a Whirlpool Experience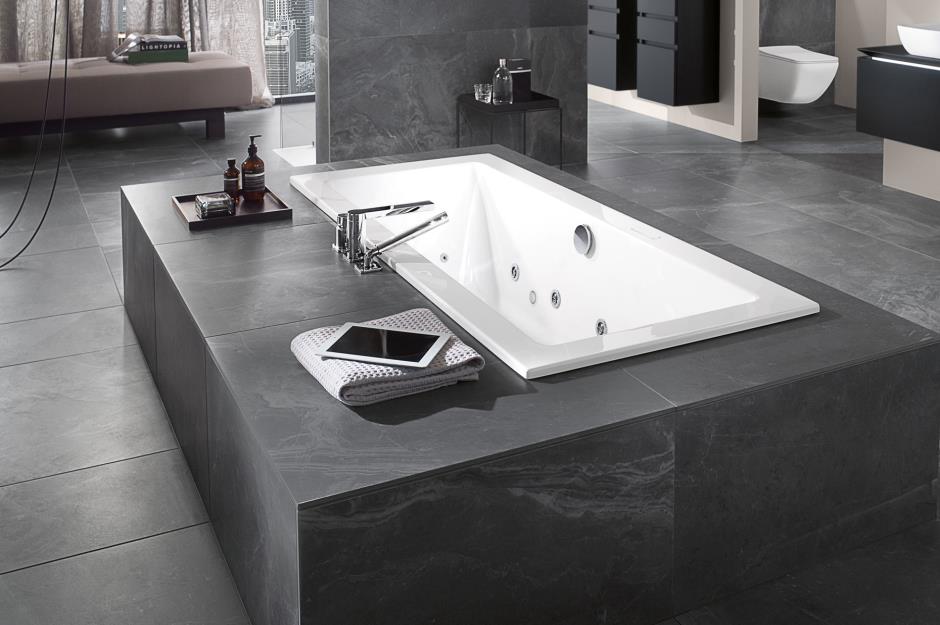 Villeroy & Boch
Whirlpool baths were thought to be super cool back in the 70s and 80s. Thankfully they have become a lot more understated and soothing with quiet-jet technology and modern styles to choose from. If you've got the space, a bath sunk into an island gives you that dreamy spa-like experience at home.
Incorporate Pebbles and Stones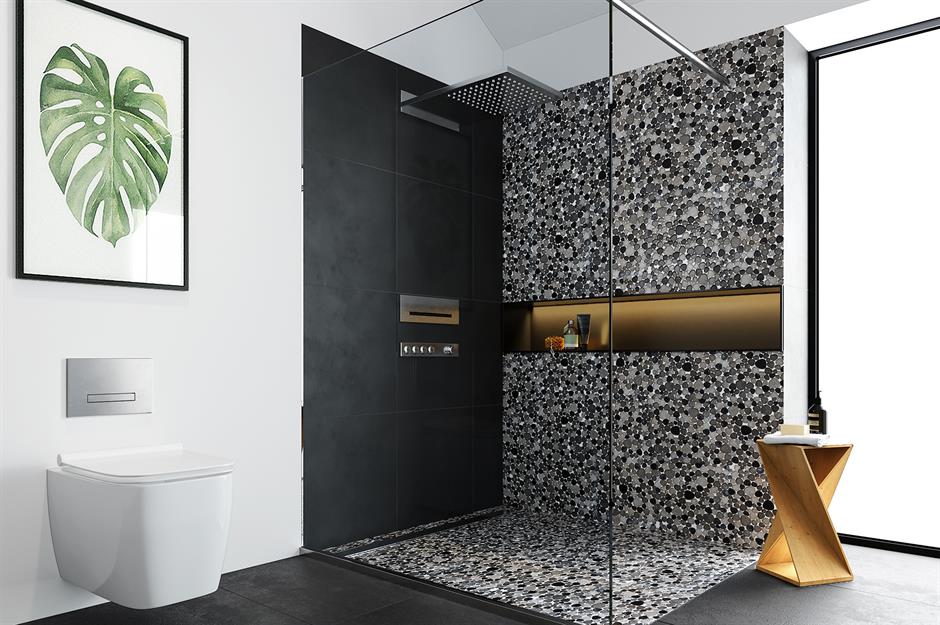 Tile Mountain
Many spas use pebbles and stones to recreate the feeling of natural bathing in mountain springs. Get the same effect with sheets of pebble tiles that are much easier to install, smooth underfoot and can go across floors and up walls. Steal a trick from the professionals and create an illuminated recess within a shower to hold your essentials.
Install Shutters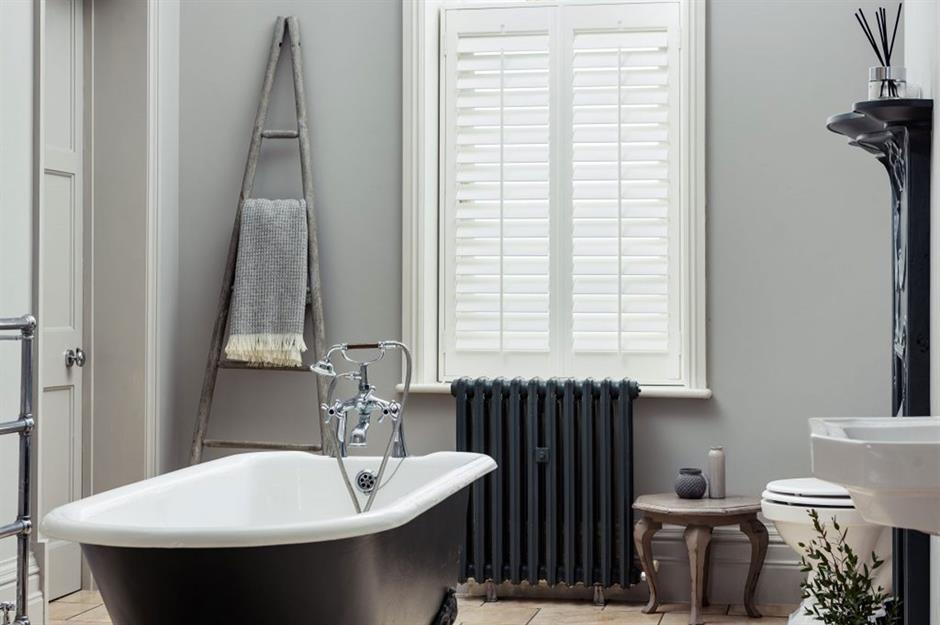 Shutterly Fabulous
The popularity of shutters means they are becoming much more affordable as manufacturers compete against one another for business. Streamlining the bathroom with stylish shutters as a
window treatment
will create a high-end finish and much-needed privacy. They look especially good in traditional period schemes.
Heat Up the Radiators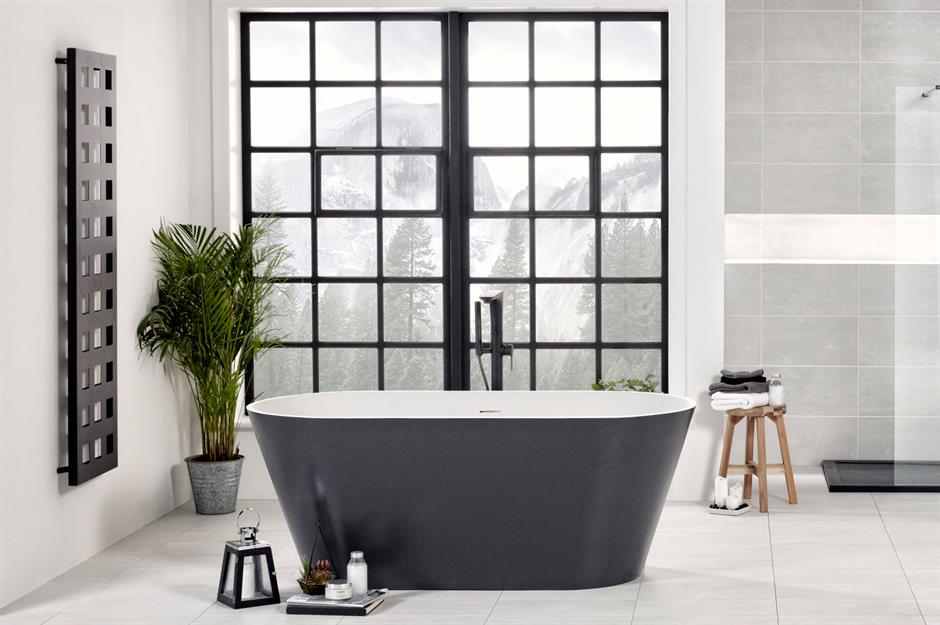 Frontline Bathrooms
Make the radiator part of the decorating scheme by choosing a stylish version that echoes the colour and theme of the bathroom. This wall-mounted black lattice-style radiator sits perfectly against the framed Crittall-style windows and black statement bath.
Set the Mood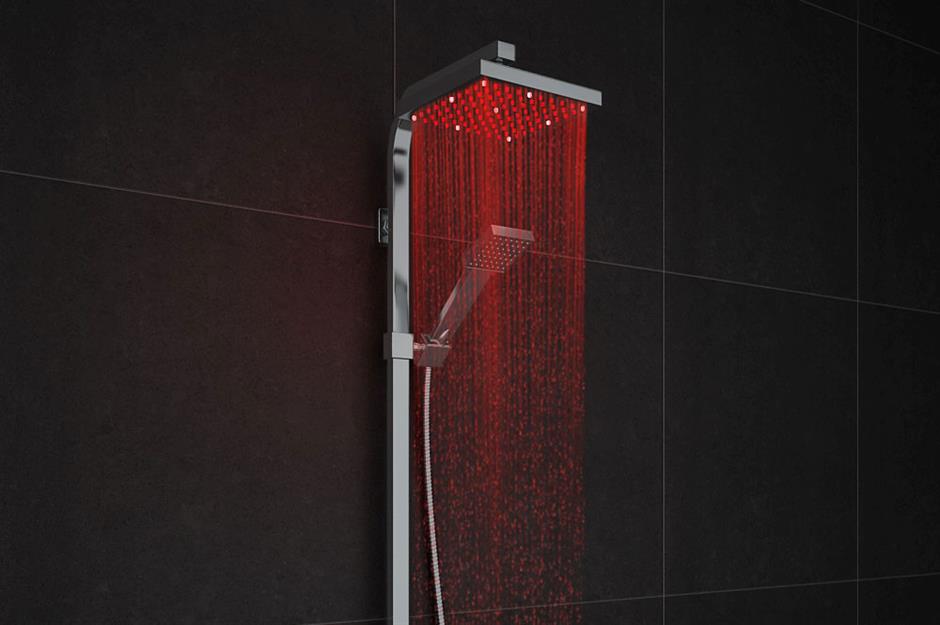 Victorian Plumbing
Shower time just got a whole lot more fun!
LED thermostatic showers
change colour with the temperature of the water. No more scolding or freezing temperatures when you step in the shower as the colour of the water will give you a clue. Turn off the bathroom lights for an invigorating disco shower, we dare you!
Keep Warm Underfoot
Breadmaker / ShutterstockUnderfloor heating is efficient, space-saving and what could be better in winter than stepping out of the bath or shower onto a warm floor? Tiles made from natural materials such as stone and slate are an ideal flooring choice for combining with underfloor heating. Recreate the look with a high-quality vinyl, which can also be used with underfloor heating.
Install a Smart Shower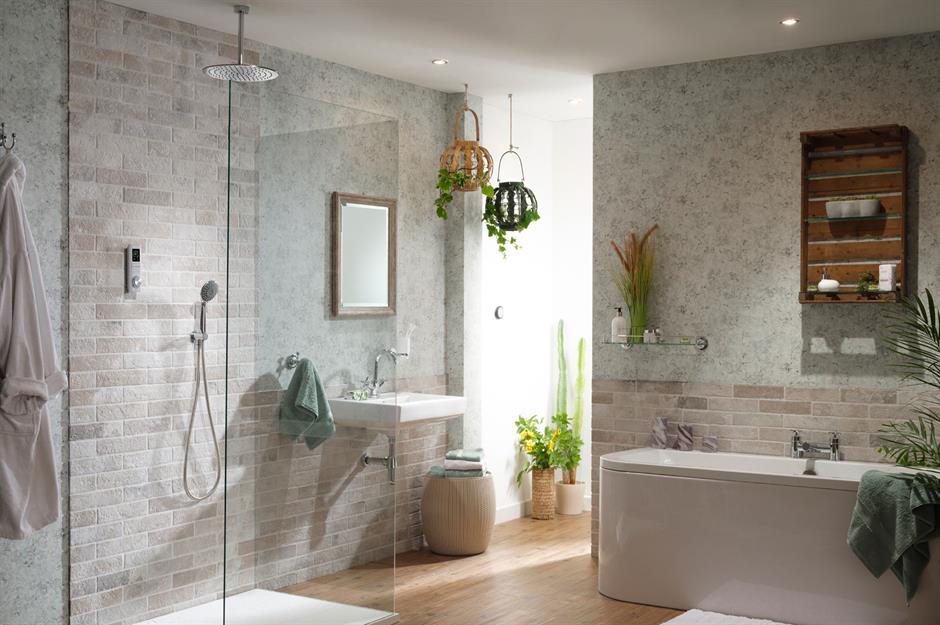 Triton
Join the digital revolution. A
HOST wireless mixer shower
has a digital control panel that does a whole lot of work. It can be programmed to a personal favourite temperature and flow for each member of the family. It also has a remote control to get the shower running before you leave the comfort of your bed. Genius!
Use Dark Colours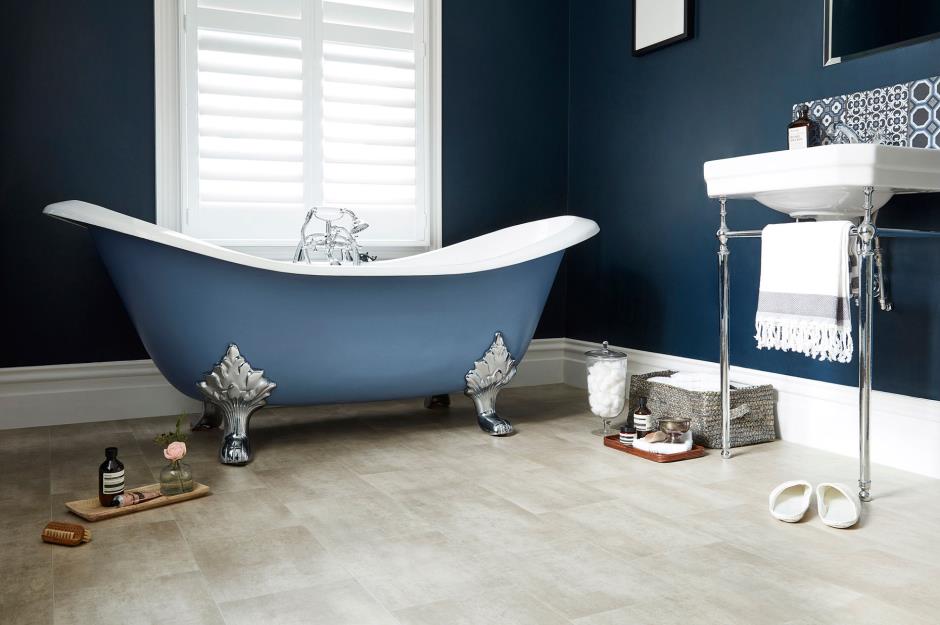 Tapi Carpets
Create that dramatic, cocooning spa feel with dark walls and tub. A double-ended roll-top bath in a bold colour choice will transform your bathroom, and don't be afraid to enhance the look with a dramatic wall colour. Add lightness with white painted wooden shutters to reflect light into the space, so it's not overwhelmingly dark during the day.
Try a Surround-sound Experience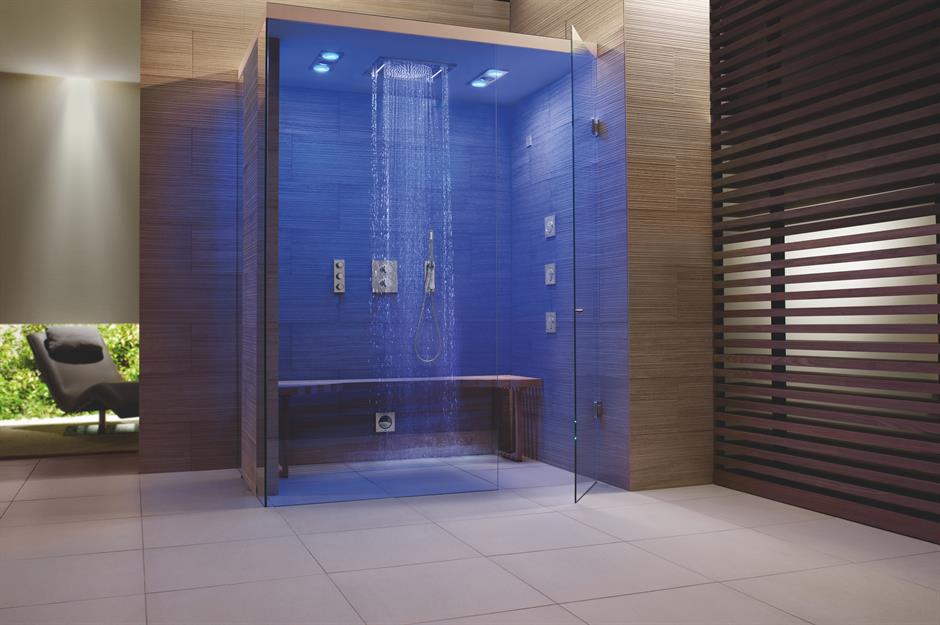 GROHE
If you have the budget, take it up a notch and with just one touch, you can transform your shower into your own personal spa with
GROHE's F-Digital Deluxe shower system
. Stimulate your senses with the ambient coloured LED lighting to suit your mood, and use Bluetooth technology to connect your favourite music playlist to the in-shower speakers. For the ultimate spa at home experience, enjoy a complete detoxification with the use of steam – bliss!
Include a Bespoke Vanity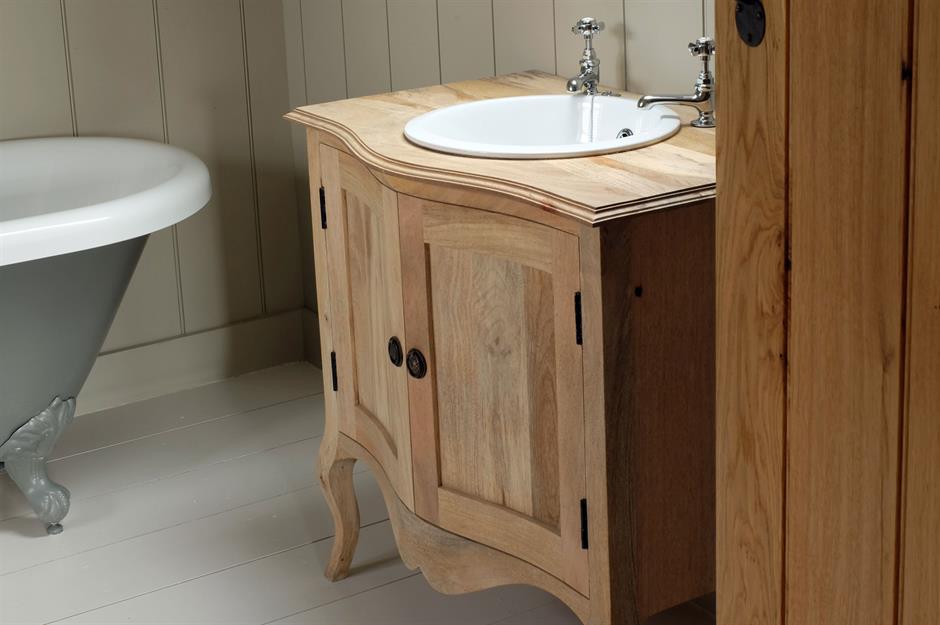 Scumble Goosie
Add a unique personality to your bathroom with a bespoke washstand. Forget run-of-the-mill styles, an upcycled sideboard or cupboard can be transformed into a stylish bathroom vanity by installing a sink on top. Leave the washstand unpainted for a natural, country house look or use chalk paint and finishing wax to link it into your bathroom scheme.
Display Intriguing Accessories
Kelly Hoppen
If new fixtures and fittings are beyond your budget, opt for stylish accessories to set the tone. If you don't have the real deal, these white resin coral sculptures will add soothing texture and interest to all bathroom schemes. Group together at different heights for a true oceanic look or add in a few votive candles to up the ambience and atmosphere at bath time.
Make Your Bath a Modern Icon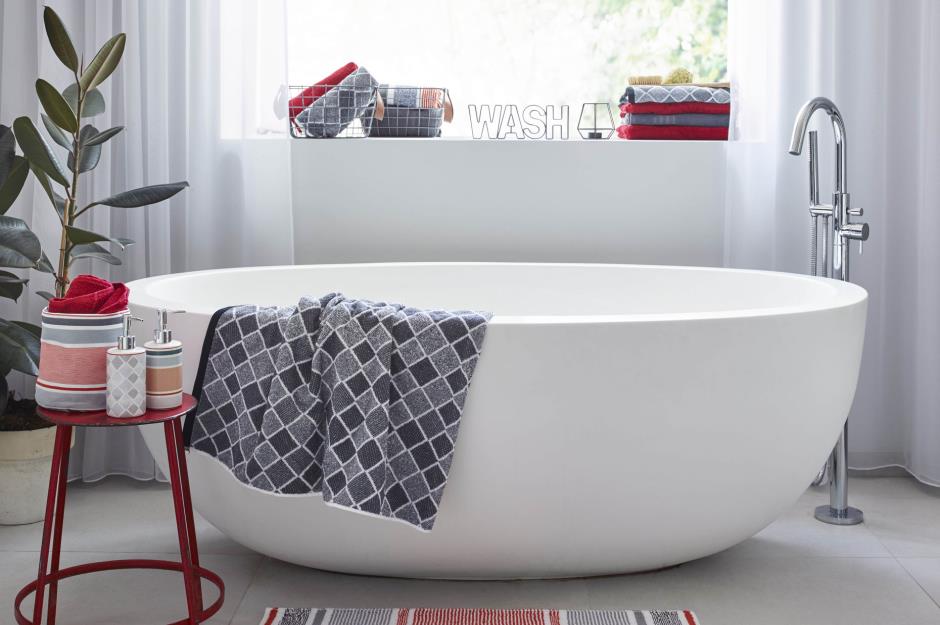 George Home
A statement standalone bath is perfect for contemporary tastes. Smooth curves and deep filled – what better way to end a tiring day? Team the bath with a chrome, floor-mounted mixer tap for extra wow factor, and use freestanding furniture to give you somewhere to place your cup of tea, glass of fizz or toiletries.
Include a Chair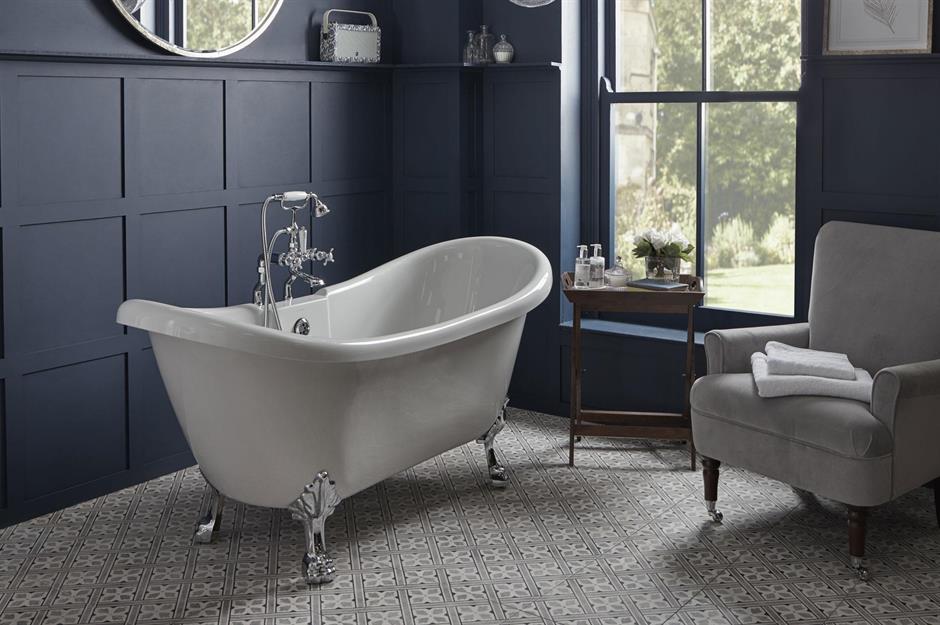 When does a useful object become luxurious? Here it's all about scale and a twist of the unexpected. A comfortable, upholstered chair blurs the lines between bathroom and dressing room, creating a look that's straight out of a boutique country spa hotel.
Upscale Your Mirrors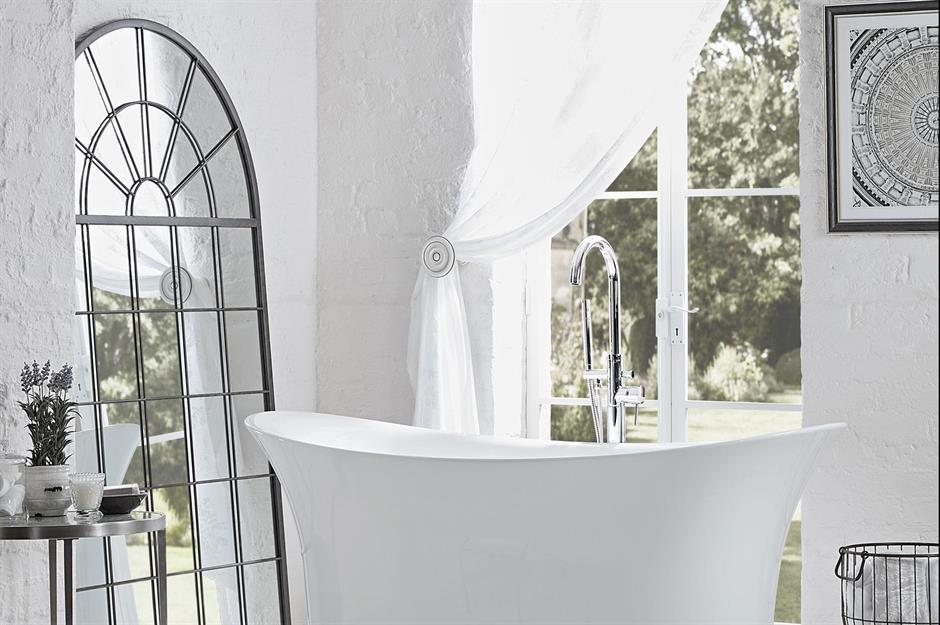 Lean an oversized statement mirror for an elegant touch. This window-style arch design looks fabulous in monochrome schemes and has an industrial twist.
Supersize Your Shower Head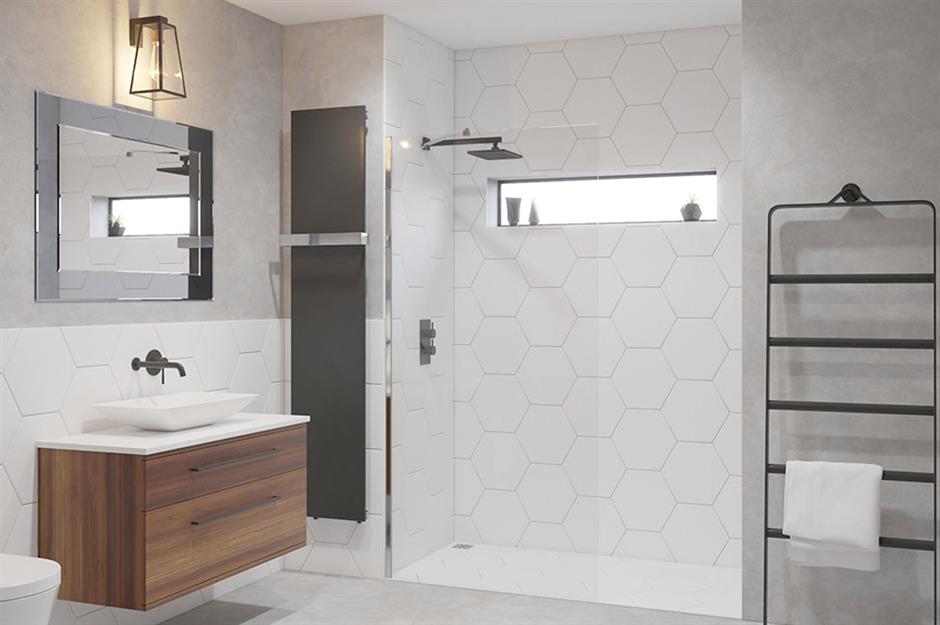 Soak
An extra large rainfall shower head is a sought-after accessory in the world's most stylish homes. It will not only make a bold and luxurious statement, but will be irresistibly inviting too.
Glow-up Your Shower Curtain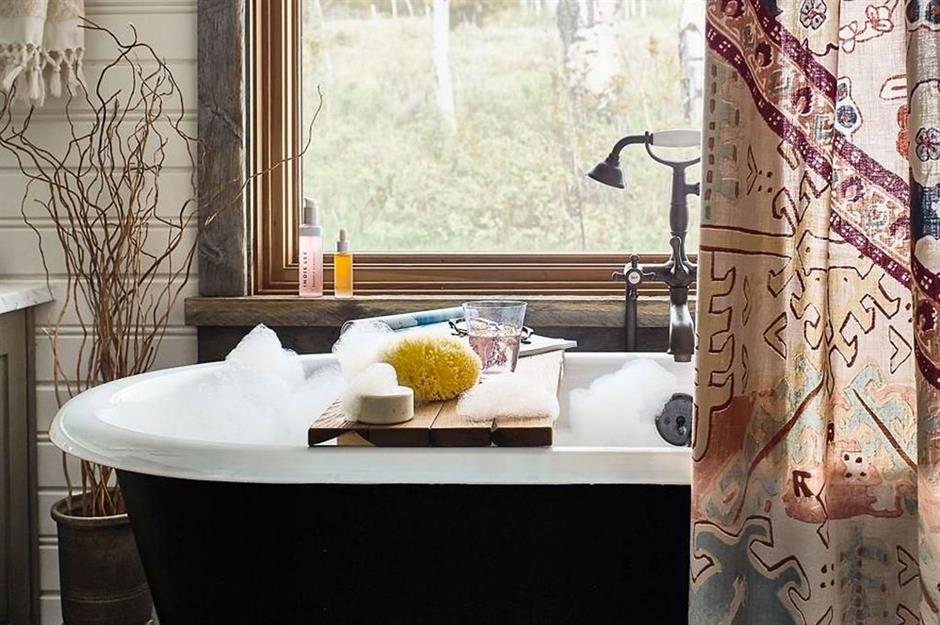 Anthropolgie
Throw away your grimy old plastic shower curtain and invest in a new quality linen version that looks the part. This beautiful vintage-style pattern looks more like actual luxury curtains draped around the roll-top bath and is in keeping with the bathroom scheme's luxurious eclectic vibe.
Create a Place to Pamper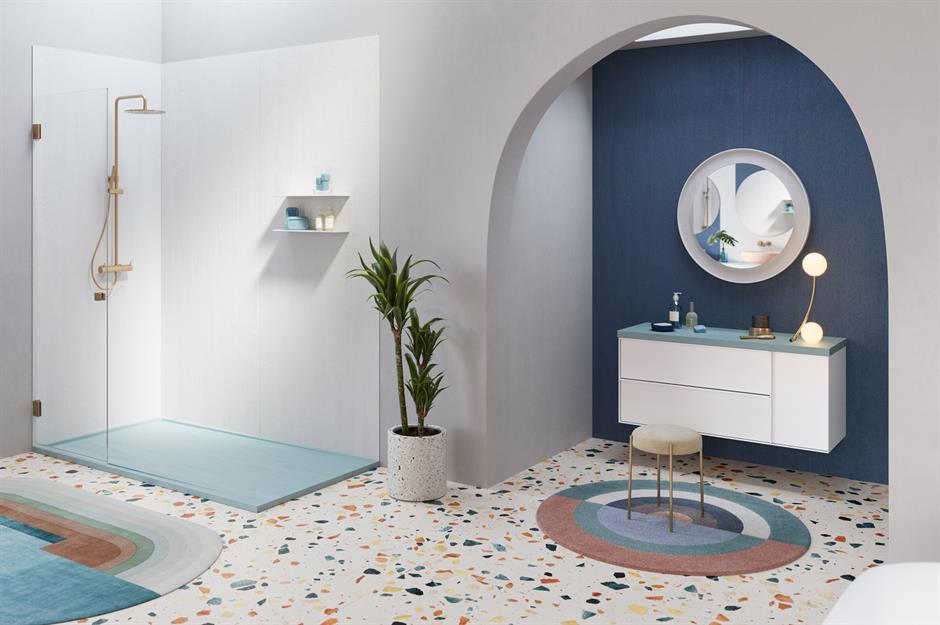 Aquabella
Give yourself room to get ready by creating a designer dressing table area for your bathroom. This
awkward alcove
has been given a glamorous purpose thanks to the navy blue feature wall and vanit-style dressing table with stool. Finish the minimalist but luxe look with a circular mirror and bath mat.