For Original Article – https://www.loveproperty.com/gallerylist/130852/industrial-decorating-ideas-for-2022
Embrace factory-style décor with industrial design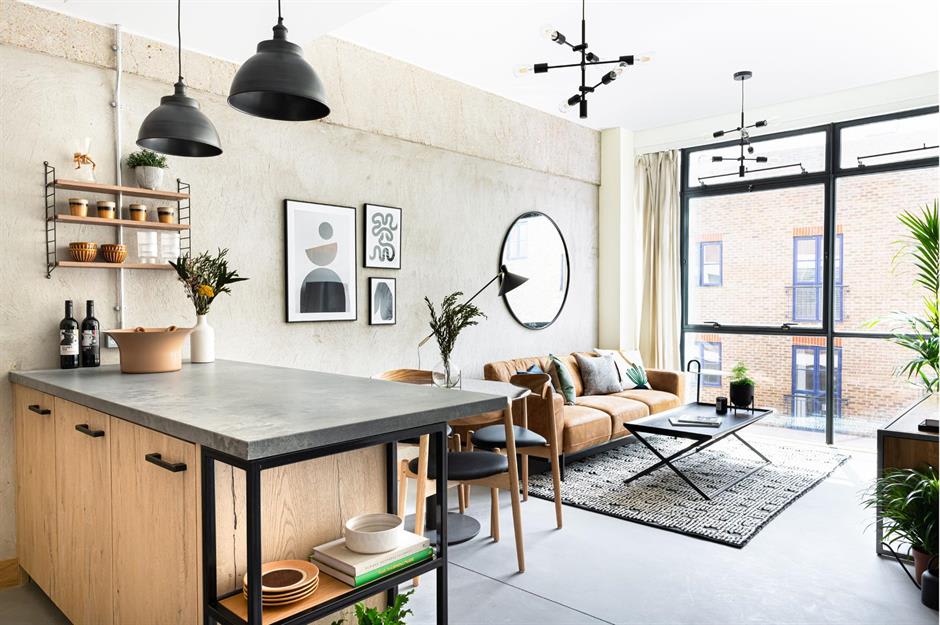 Industville
Converting former factories and disused warehouses into residential homes is a sure-fire way to create a jaw-dropping space with a distinctively cool style. Particularly associated with trendsetting New York City, who can blame us for wanting to inject that Manhattan loft-look into our own homes even if we're not living in the meat-packing district? It's chic, edgy and urban! From exposed piping and utilitarian furniture finds to Critall windows and bare brick, take a look at these industrial decorating ideas that pass our production line test.
Stick with open-plan living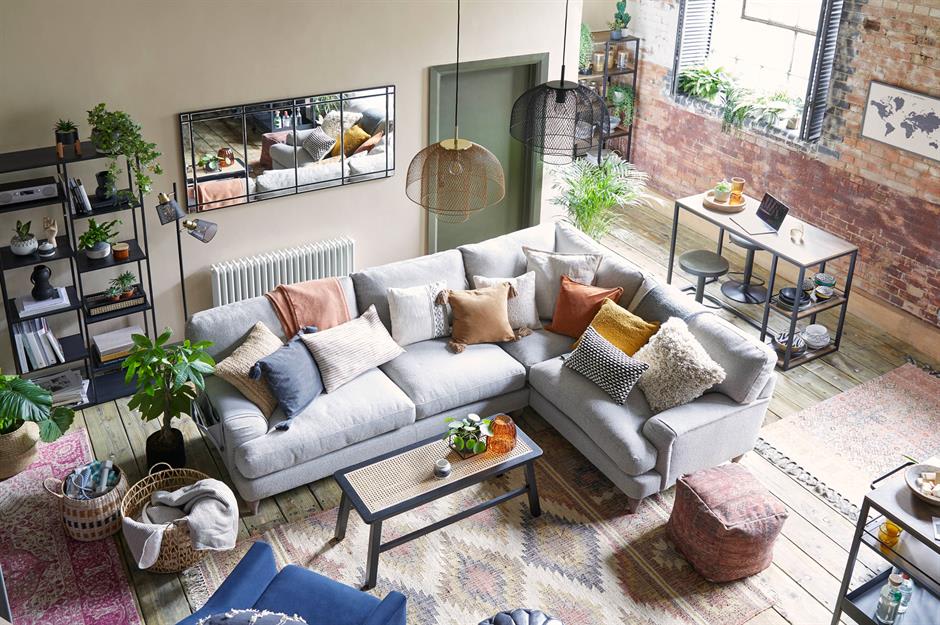 Dunelm
Factory floors are usually wide open spaces so the first rule of thumb is to choose open-plan living. Add relaxed comfort with a large central sofa. Worn leather is the ideal material, but fabric will work for a more up-to-date feel. Choose a natural colour such as brown, beige or grey to set the scene.
Divide with open shelving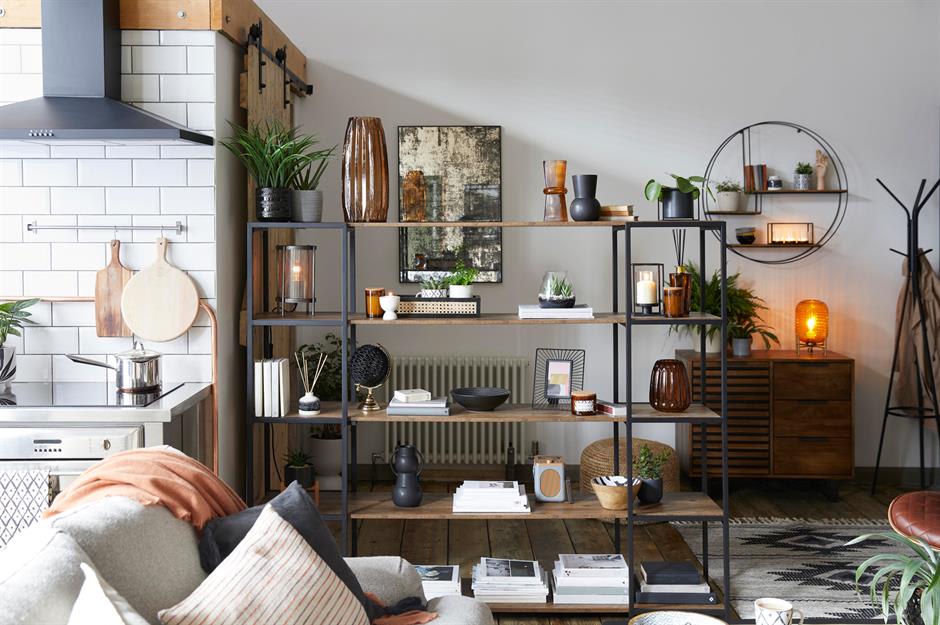 Dunelm
Typical industrial-style storage is usually made with black metal frames and wooden open shelves. The narrow open design makes them perfect room dividers. Amy Sargent, Designer at Dunelm explains: "Our own modular shelving system gives everyone more flexibility in how they can arrange and use their space. One option could be to use the system as a divider between areas – ideal for defining entranceways."
Style up a hardworking office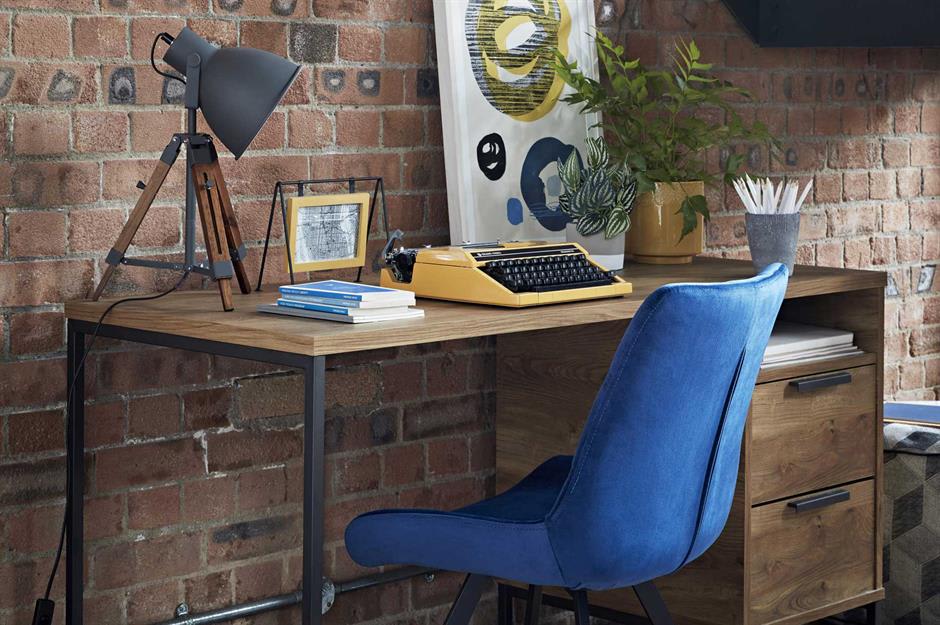 Argos
A home office with an industrial twist makes an ideal pairing as warehouses were made for work. Take inspiration from what a floor manager's desk would have looked like with a black metal writing desk, locker-style filing storage and a swing arm or spotlight. An office chair on wheels will finish the look. This royal blue swivel design adds a shot of fun colour. 
Go back to basics in the bathroom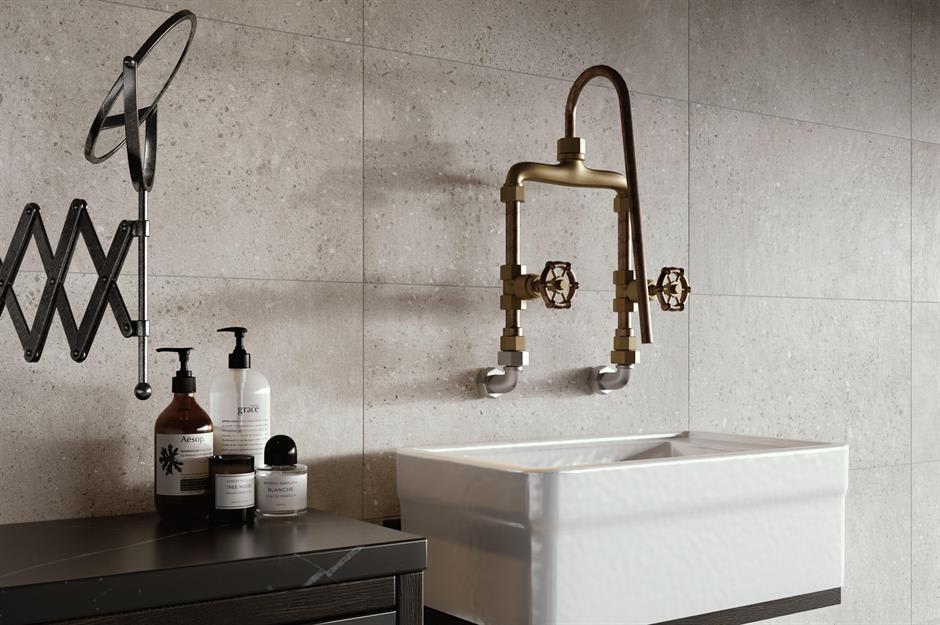 The Baked Tile Co
Creature comforts are not a priority in commercial properties so fixtures that seem elemental are crucial for an authentic impression. Die-hard renovators source genuine taps from salvage yards. Or, it's easy to get the look (and have a leak-free guarantee) with new replica versions available in steel, copper or brass. 
Warm up with natural materials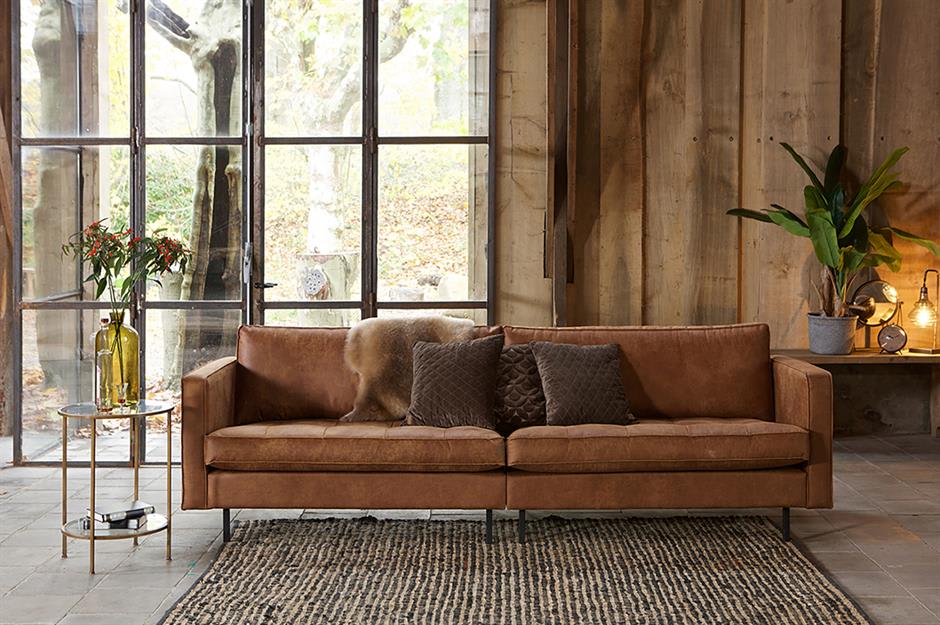 Cuckooland
Industrial design relies heavily on natural raw materials so this year's love of new neutrals gives the look a warming twist that works. To get this look layer more earthy tones than usual; a leather sofa set in front of rustic wood panel walls keeps concrete floors and Crittall-style windows from feeling cold. 
Embrace some colour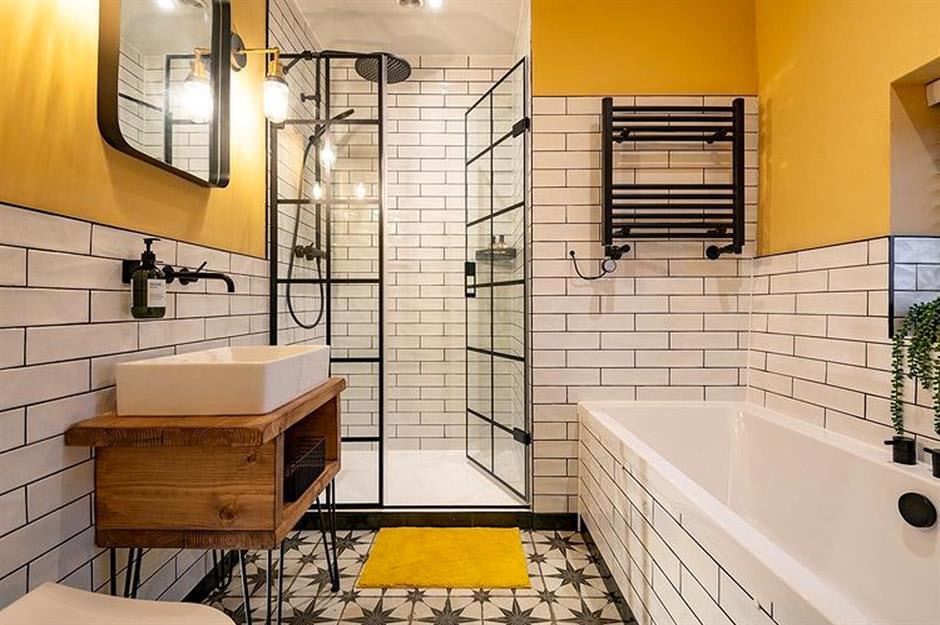 @dovecotebarns / Instagram
Industrial schemes are often associated with monochrome palettes but don't rule out colour to add a homely twist. This bathroom at @dovecotebarns includes the usual suspects such as metro tiles, Crittall-style shower doors and black framed mirrors. Then, bright yellow paint offsets the stark style like warm sunshine.
Fake exposed walls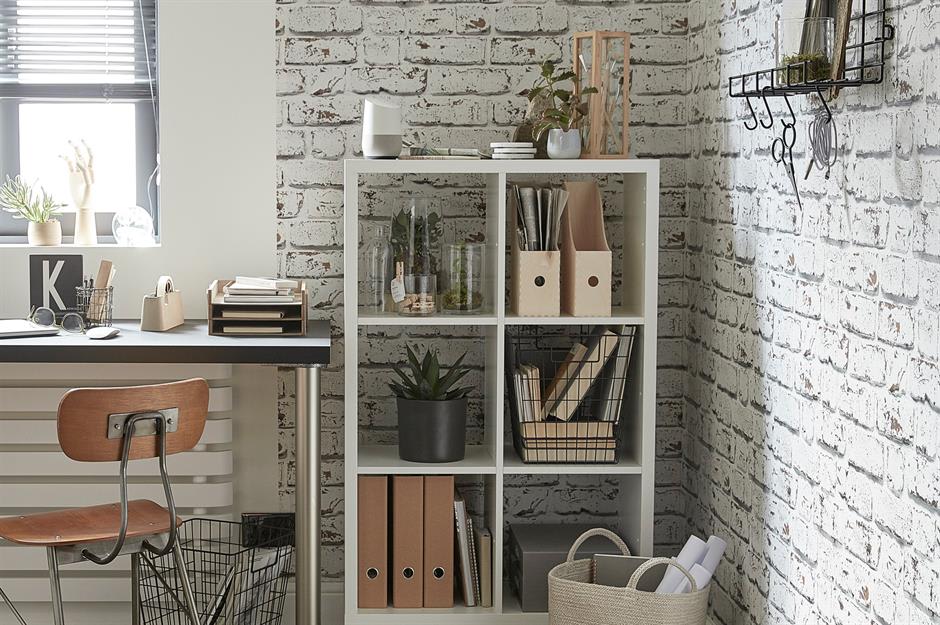 B&Q
An exposed wall is the canvas upon which every good industrial style decorating scheme is built. Brick, cement and raw plaster all looks the part. But if the thought of hours spent chipping off a perfectly smooth surface the look can be easily faked too. Wallpaper, brickslips and paint effects can achieve the look without the mess and in less time! 
Opt for a dark kitchen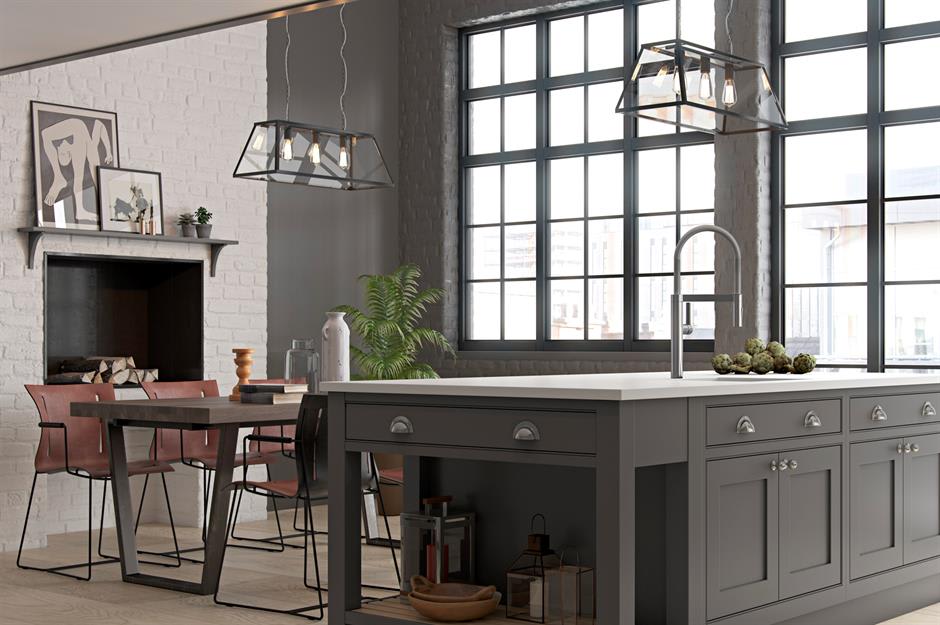 Mereway
Dark kitchen colours offer a timeless look. When teamed with factory-style windows, caged lighting and vintage-look canteen-style dining furniture it's an industrial match made in heaven. Stick to a basic colour palette and add depth with exposed brick walls If possible. 
Expose your lighting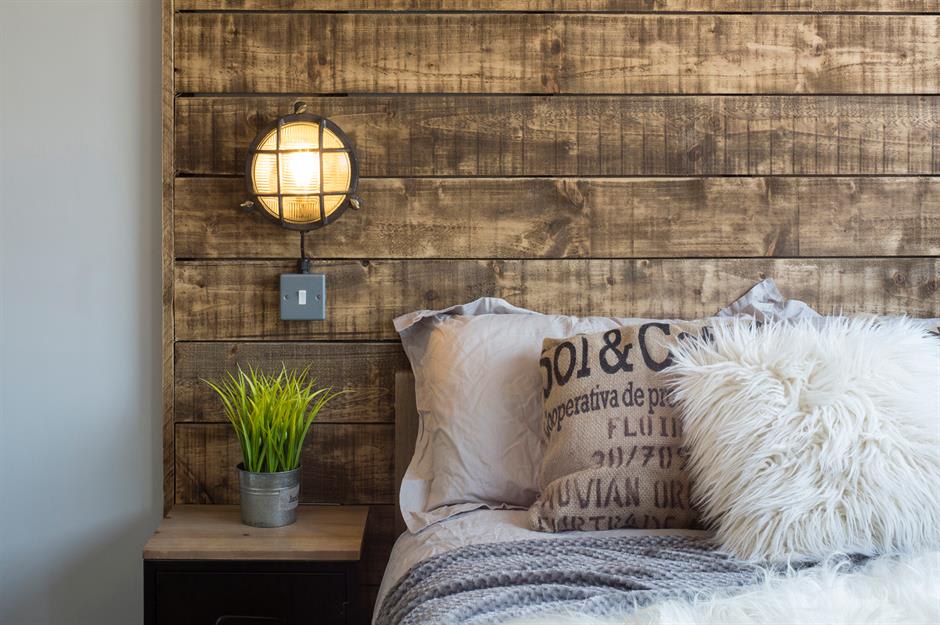 Industville
The right lighting is another essential element of industrial style. It brings a factory touch to the look and when lit can soften the raw edges of the room. Choose lights with exposed Edison bulbs and matt black caged designs. Twist cables around suspended wood or look for wall-mounted options that would usually be more at home in the garden. 
Hang large metal lights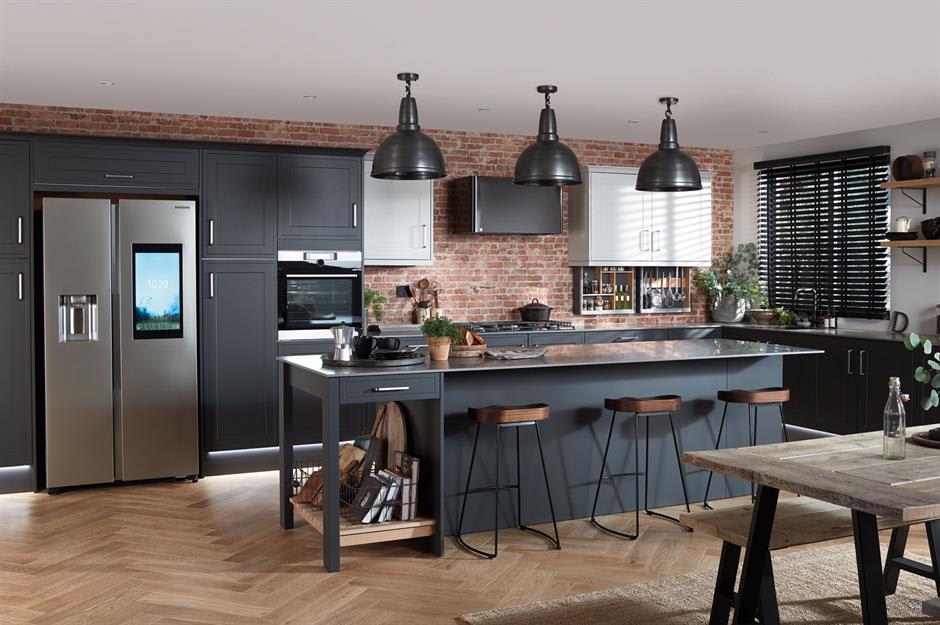 Magnet
Large metal pendant lights are an industrial kitchen staple. In larger kitchens bigger is better; a set of three structural metal pendant lights will make a fabulous focal point set above a high-shine chrome topped kitchen island. 
Faux a Crittall door design
@Negi.at.home / Instagram
Large factory windows and doors make industrial schemes look chic but can be expensive to install. Fake the look like @negi.at.home. She has cleverly measured out and marked faux metal panels with black masking tape. If your doors are white to start with black uPVC paint will match the frames up to the tape for a flawless fabrication. 
Frame the bath
Pelipal
Looking for the ultimate industrial-style bath? We've seen plenty of metal-framed furniture but how about enhancing the tub? This statement bath is a super stylish mix of contemporary and vintage with its slim black steel frame supporting the white curved bathtub. A metal copper or bronze metal-effect vanity makes a fitting addition.
Go for dark wood in the bedroom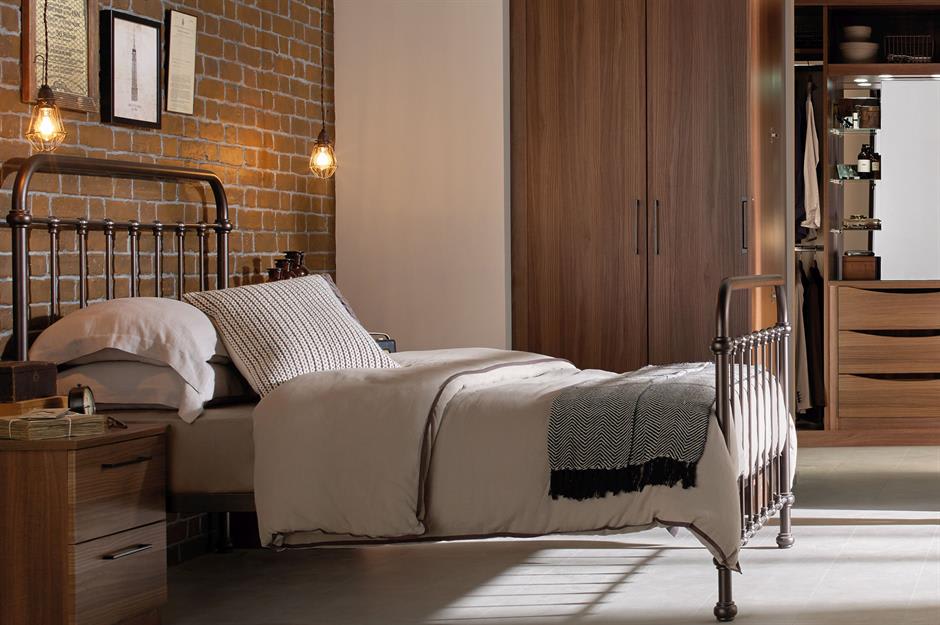 Sharps Bedrooms
In the bedroom, it's important to make the bed fit the industrial scheme so a bronze metal bed with rusty elements will anchor the look. Fitted wardrobes in walnut with black handles will layer natural textures and bring a contemporary look to old pieces. Dorina D'Amroisio, creative director of Sharps bedrooms says: "My advice would be to layer (the bedroom) with every single texture and don't be scared of mixing it with woods and metals, with brick and concretes. Use the natural elements."
Love locker style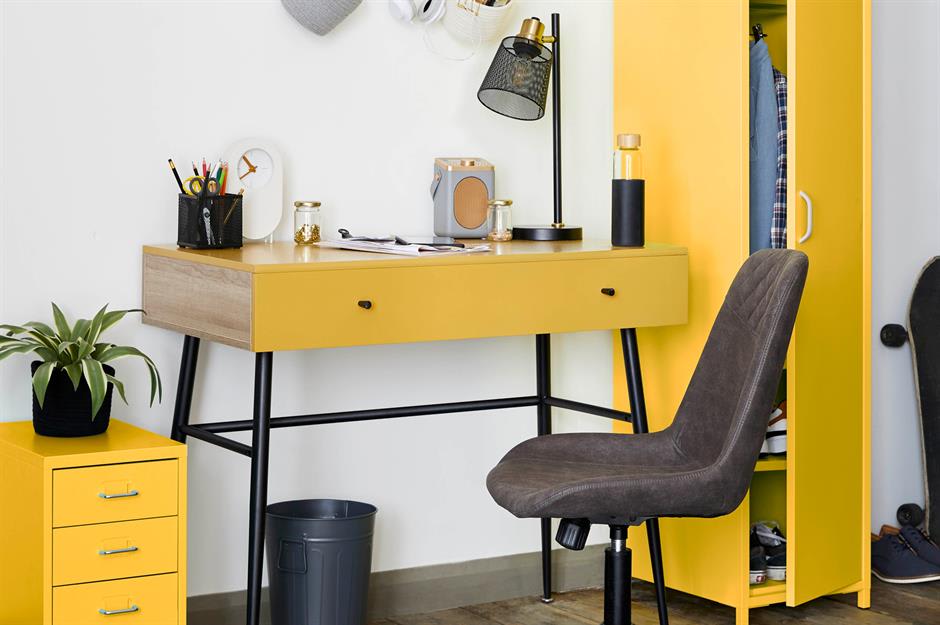 Dunelm
Locker-style office furniture makes a great addition to teen bedrooms that are after an edgy industrial vibe. Stick with tradition and choose gunmetal grey or black finishes. Or, opt for something fun – bright colours will pop against dark metal frames and bring a scheme up-to-date.
Choose wall art wisely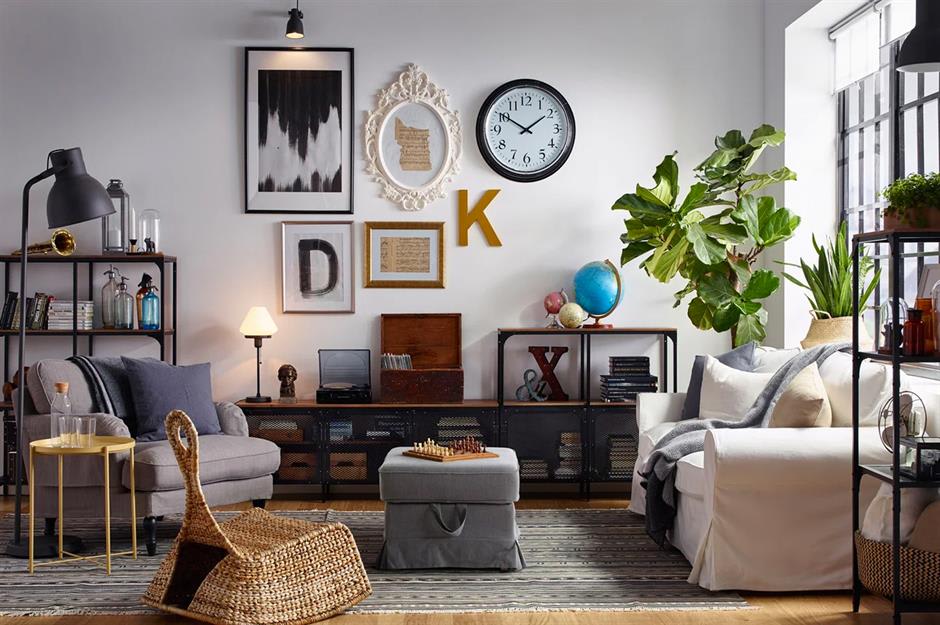 IKEA
Accessories and wall art will complete an industrial style scheme. A large office-style clock makes a good starting point which can then be enhanced with other decorative hangings such as disused printing press letters, vintage frames and black and white typography. 
Add concrete effects to walls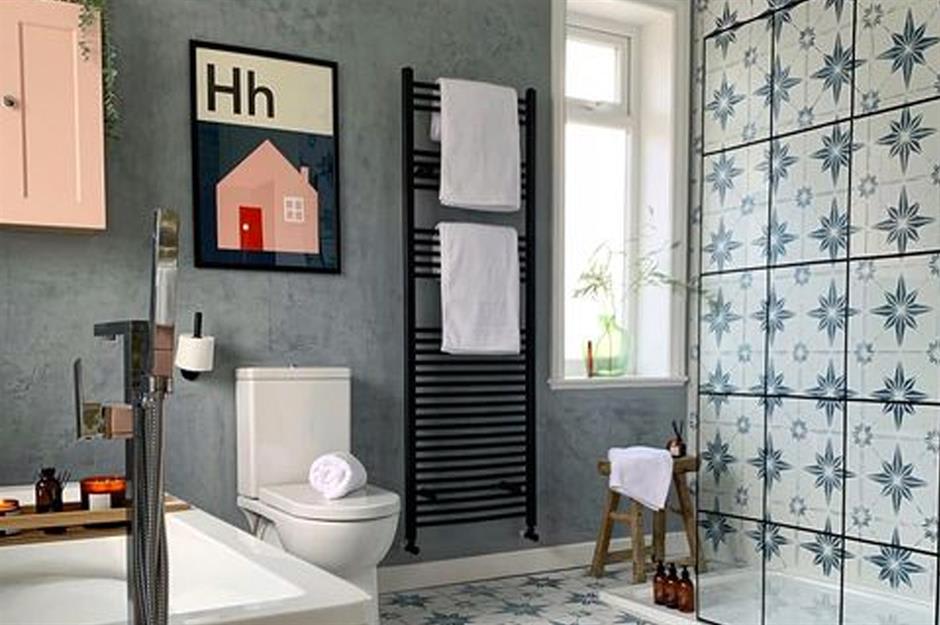 @crack_the_shutters / Instagram
Just like exposed brickwork, concrete walls make a convincing industrial backdrop. But the porous material won't last long in a moist environment. Here, @crack_the_shutters has copied a concrete look in her bathroom using Craig & Rose Artisan Concrete Effect paint. A matt sealant protects the paint in this high-humidity room. Check out the process here.
Use reclaimed wood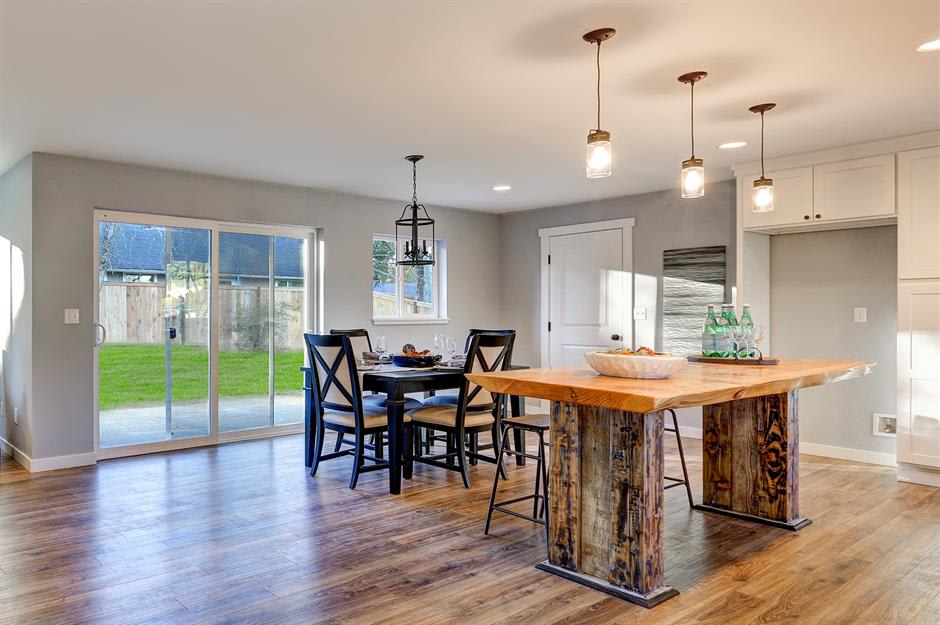 Artazum / Shutterstock
Wood and metals are the bricks and mortar of industrial design and the more distressed the better! That's why untreated wood works so well. Used in large format the natural textured and grainy material can create architecturally stunning results without a hefty price tag. This centre island, created from reclaimed wood, makes a style statement.
Spray on metal effects
Make It Yours / Rust-Oleum
Metal is probably the epitome of industrial style so spraying existing furniture with a metal finish is a budget-friendly of getting the factory feel in your home. Team tones such as black steel, gunmetal grey and burnished bronze to up the vintage factor. DIY experts at Rust-Oleum say, "We styled our Gun Metal stationery trolley, chair and wire board with dark wood accents to give a rich, earthy feel."  You can check out the full DIY here.
Highlight with steel beams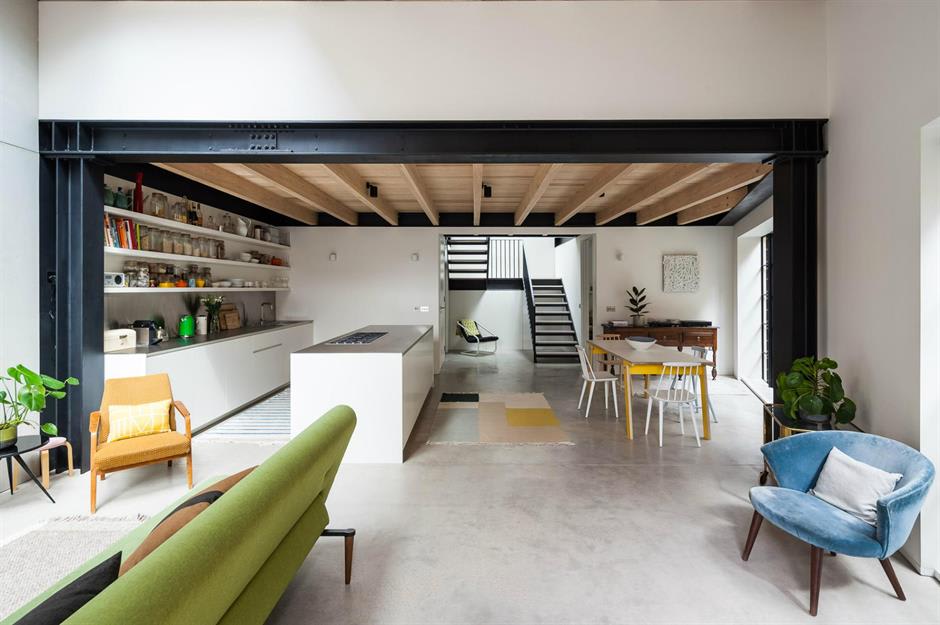 David Butler / Open Practice Architecture
Steel beams and box frames are often required structurally for house extensions but are not often admired. However, used to your advantage they can make an architectural and striking feature as part of an industrial-style scheme. Open Practice Architecture deliberately left beams exposed in this project to define living zones. 
Experiment with industrial glam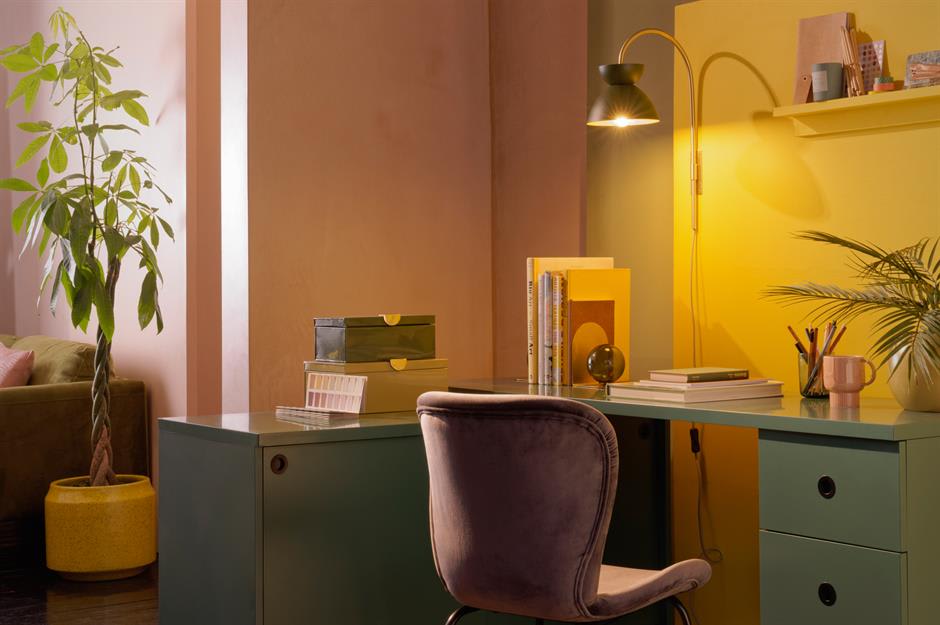 Habitat
Glamour and industrial style are two schemes that don't usually mix. However, by blending 2022 trends with industrial roots designers are coming up with elegant yet edgy spaces that work. This home office looks pretty with an edge. The functional design of the desk has a distinctly industrial feel yet its soft green colour paired with gold metal lighting is opulent and soft. Think fashion house rather than disused warehouse for this look.
Drop in workshop details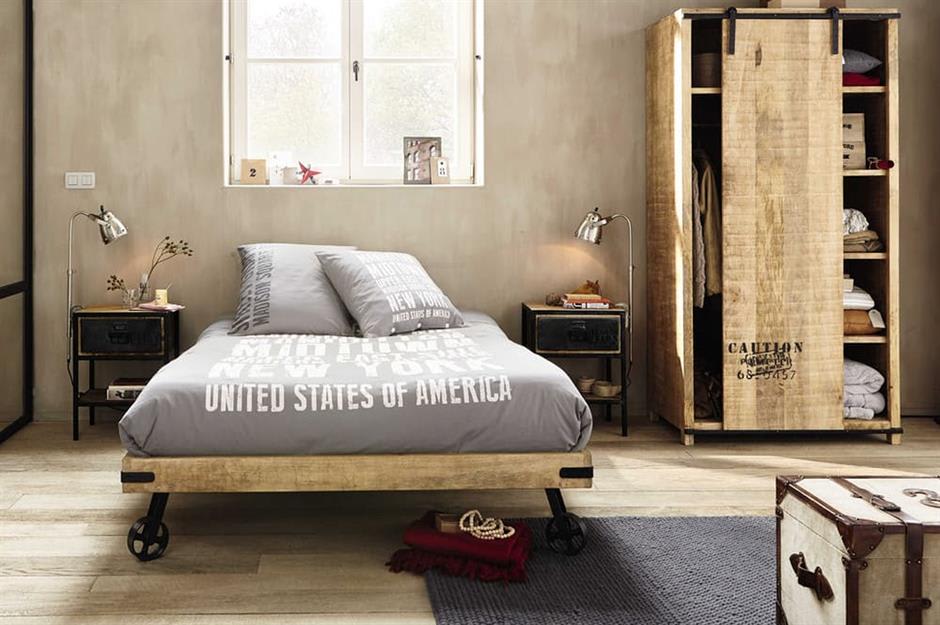 Maisons du Monde
Furniture with distinctive factory features will make prime industrial additions to any room. Rustic beds on iron wheels and wardrobes with sliding door mechanisms add quirky interest and attention to detail in this industrial-style bedroom.
Add plenty of black accents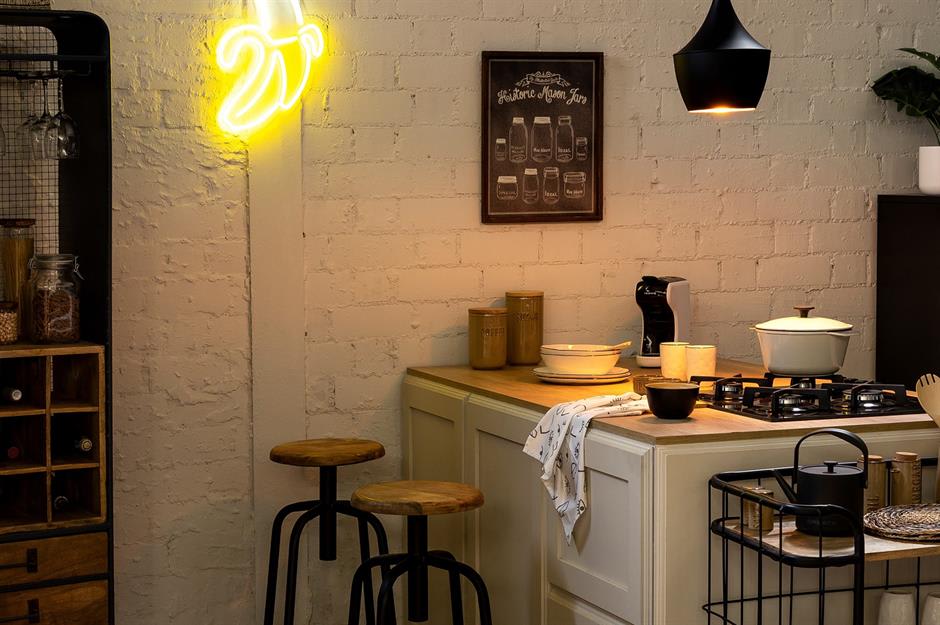 Sklum
Once you've stripped your backdrop bare introduce black elements that are unpretentious. Simple black stools with wooden seats, wire-framed shelves and a trolley will transform a neutral kitchen into a cool yet homely canteen.  
Upcycle as much as possible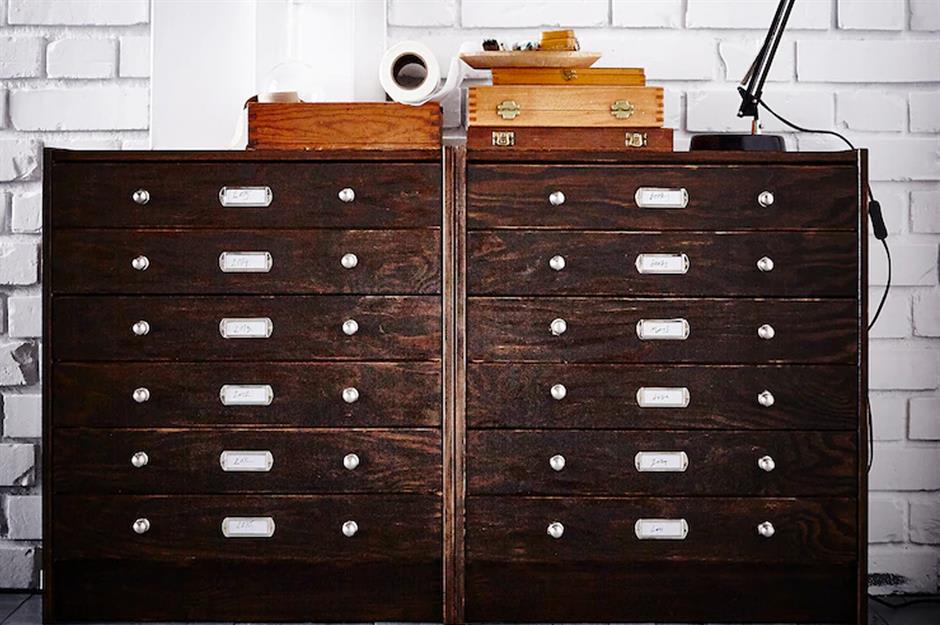 IKEA
Industrial design is about mixing old and new so look for vintage furniture to give your home heritage and personality. Or, make the most of what you have by transforming basic and boring furniture. These filing cabinet-style drawers used to be a basic pine set, but an IKEA hack has turned them into vintage-look statement storage. 
Keep fabrics simple
Furniture Village
Keep in mind that an exposed backdrop with texture will already be busy. So, when it comes to soft furnishing less is more. Smooth leather sofas can be dressed with simple cushions in similar earthy tones or choose grain sack ticking for a rustic touch. 
Embrace mini loft living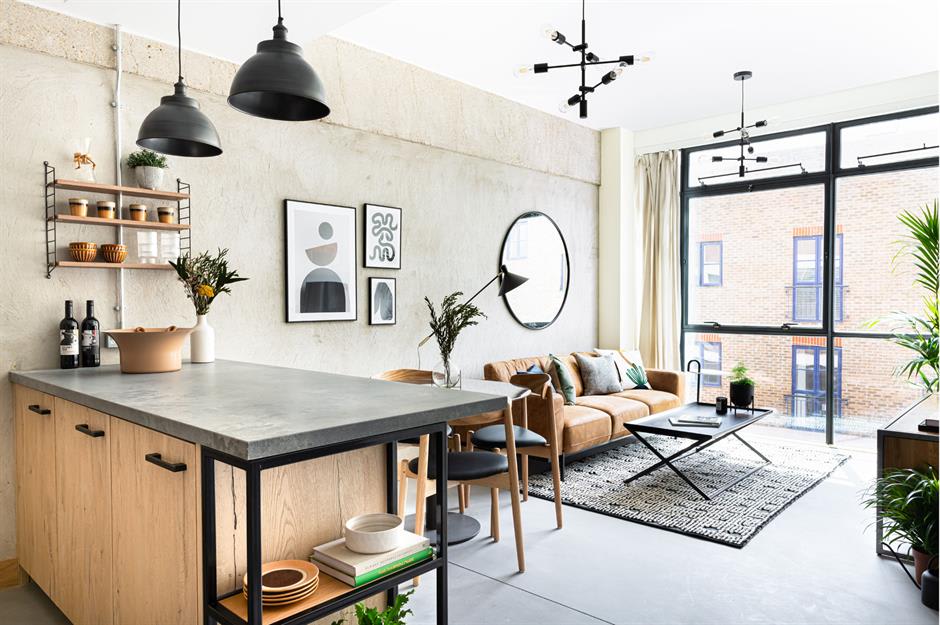 Industville
You don't need a huge open space to work the converted warehouse look. A small apartment can look just as industrial with bare black framed windows, dark metal lighting and a comfortable but eclectic mix of furniture.