Original Article – https://patch.com/california/marinadelrey/holidays-near-how-help-hungry-families-marina-del-rey
Believe it or not, the holidays are just two short months away. As your kids make their Christmas lists, and you begin planning an elaborate holiday meal with all the trimmings, it's also a perfect opportunity to seek out ways to help and give back to your Marina del Rey neighbors.
One way is by ensuring everyone in Marina del Rey has a holiday meal of their own and full bellies on Christmas Day.
For millions of families in Marina del Rey and other U.S. cities, a hearty holiday meal simply isn't possible.
Los Angeles County is among those where residents sometimes struggle with food insecurity, according to Feeding America, the nation's largest network of food pantries and food banks.
Before the pandemic, 1,079,900 people in Los Angeles County were considered to be food insecure, according to Feeding America. The continuing economic fallout from the pandemic has increased that number by 5.2% who could be on the brink of hunger.
Last holiday season, 80 percent of Feeding America food banks reported serving more people than during the same time the previous year.
This year could be similar. Nationally, Feeding America estimates that as many as 42 million people — including 13 million children — could experience food insecurity in 2021. As a result, food banks nationwide have seen a nearly 55 percent increase in use.
There are many ways you can help ahead of the holidays. Here are a few ideas:
Donate To A Food Pantry
Food pantries and food banks have experienced a 55 percent spike in usage through the pandemic, according to the latest Feeding America data, erasing a decade's worth of progress toward ending hunger in the United States.
Donating to a food pantry is simple. Food pantries accept any food that is "shelf-stable" or nonperishable — this means you can keep it in your pantry and it won't go bad. It's also a good rule of thumb to only donate food that hasn't reached its "sell-by" date yet.
See a list of what to donate to food pantries and what to avoid.
Here are the nearest food pantries in Los Angeles County:
Venice Family Clinic: Simms/Mann Health and Wellness Center (10 a.m. to noon on Tuesdays)
2509 Pico Blvd., Santa Monica
Venice Family Clinic: Colen Health Centers (Second and fourth Thursdays of the month)
4700 Inglewood Blvd., No. 102, Culver City
Food Distribution Center – WSFB – Ocean Park Community Center
503 Olympic Blvd, Santa Monica
Food Distribution Center – Saint Joseph Center
204 Hampton Dr, Venice
Westside Food Bank
1710 22nd St., Santa Monica
St. Mark Food Pantry
940 Coeur D Alene Ave, Venice,
Los Angeles Regional Food Bank
1734 E. 41st Street, Los Angeles
Volunteer At A Food Bank Or Pantry
More than half of all food programs in the United States rely entirely on volunteers, according to Feeding America. While volunteering can look different depending on where you're at, here's a sampling of the jobs you might do:
Keep pantry shelves stocked and assemble food boxes for pickup.
Help with fundraising or raise awareness of food pantry services.
Deliver meals or food boxes.
Assist with distribution at drive-thru or mobile food pantries.
To volunteer, check with any of the food pantries listed above.
Host A Fundraiser
You can take action against hunger by hosting a fundraiser for Feeding America or any other local food bank or food pantry. Not only is it a great way to fight food insecurity, it's also a fun way to interact with others while making a difference in your community.
Here are a few ways you can fundraise for Feeding America:
Give meals instead of gifts for your birthday, wedding or any other special occasion.
Use your talents to fundraise. Hold a bake sale. Sell your artwork. Set up a lemonade stand with the kids.
Host a charity stream on Instagram, TikTok, Twitch, YouTube or Facebook and recruit your followers to give.
If you prefer to fundraise for another local food pantry or food bank, contact them to see how you can help.
Lobby Your Lawmakers
You can use your voice to advocate for those struggling with food insecurity. Federal food programs are a necessity in ending hunger — for every meal a food pantry provides, government food programs like the Supplemental Nutrition Assistance Program (SNAP) provide nine.
Organizations like Feeding America make it easy to reach out to your lawmakers using these contact forms.
Feeding America serves 200 member food banks that serve and supply 60,000 food pantries, kitchens and meal programs around the country.
FIND FOOD
Find your local food bank
DONATE
Make a donation to Feeding America*
READ
"The Impact of Coronavirus On Food Insecurity"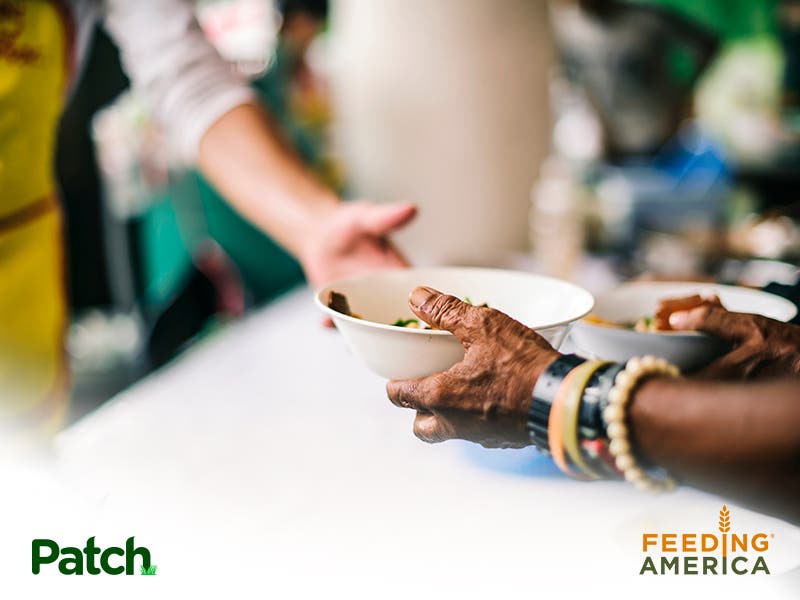 Patch has partnered with Feeding America to help raise awareness on behalf of the millions of Americans facing hunger. Feeding America, which supports 200 food banks across the country, estimates that in 2021, more than 42 million Americans won't have enough nutritious food to eat due to the effects of the coronavirus pandemic. This is a Patch social good project; Feeding America receives 100 percent of donations.* Find out how you can donate in your community or find a food pantry near you.